*This post contains affiliate links for your shopping convenience. 
Aren't boys fun! They can turn a cement retaining wall into a balance beam. They can make anything into a ball to be thrown.  They love to run and jump, can be really loud, and super sweet. When boys become second and third graders, they seem to shift to building more intricate things and creating things that go.  With that in mind, here are my five top picks in this holiday gift guide for boys; ages 7 to 9.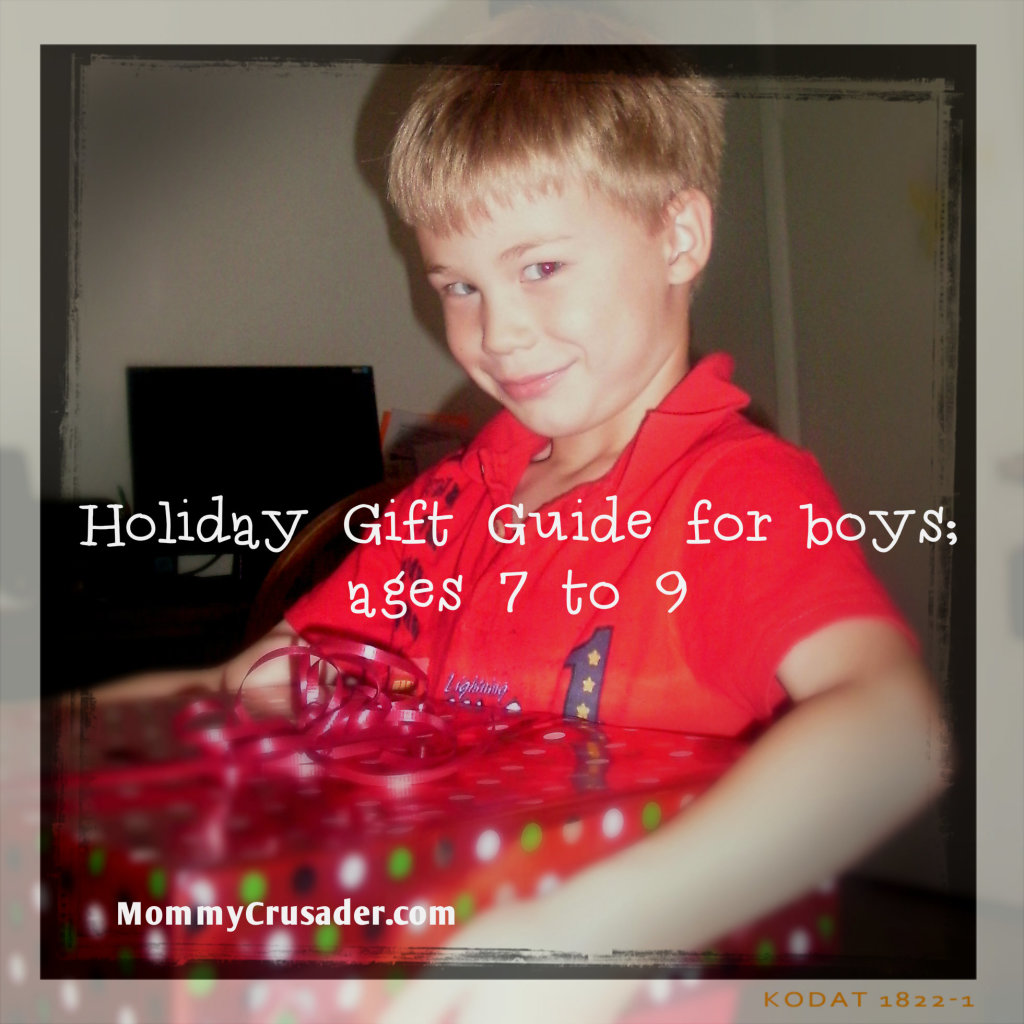 Lego City Sets
The Lego City sets are amazingly creative, while still realistic. They come with specialty pieces like money, hand cuffs, and walkie-talkies.  The helicopter has a winch that really works. The rescue at sea has a shark, with jaws that open and close. The details are just amazing and allow for realistic imaginative play once the set is built.

Radio Controlled Anything
My second grader is fascinated by anything he can make move with a remote control. He loves the remote controlled Geotrax trains, his radio controlled helicopter, and his radio controlled race car. The radio controlled vehicles let him be the driver and that creates a healthy feeling of being independent while he plays. And he's addicted – he wants more of these machines.

Robots
While robots that do chores and homework haven't been invented yet, the idea of robots fascinates my son. He loves to discuss how he will invent robots to do the dishes and laundry for Mommy. When he sees robots in the store he is amazed by them. The idea of autonomously moving toys just makes him marvel. One of the problems with robots is their price. My son wants the very best (read most expensive) robot; which may cause a problem with our Christmas budget.

Art Supplies
All we hear about after school is "May I make this? Can I draw?" which is great! Creating with paper is a fantastic way for children to express themselves. My son loves to create books, pictures, and designs for future 3 dimensional creations. Markers, pencils, crayons, paper pads – anything that can be used to make these masterpieces aid in the creating process.

Pokemon sets
Pokemon, the card game, is making the rounds among the elementary schools where I live again. All of my kids enjoy playing this game, but my sons are the most enamored with it. The game teaches strategy and thinking skills. Also, some basic math skills are needed to play the game – which is great. And of course, any game playing teaches good sportsmanship and healthy competition.

While sports equipment didn't make the short list this year, it's still a great go-to gift for boys this age. Basketballs, rubber balls, soccer balls, footballs, etc., are always great toys to get because they encourage gross motor skills, sharing, and outside play. And don't forget winter sports equipment: sleds and tubes to make sliding down snow crusted hills so much fun.

Anyway around it, buying for boys is a lot of fun and always adventurous. Thanks for reading, and if you have any gift ideas for your boys, feel free to mention them in the comments below.