I wish life came with a do-over button. I think that button would be very useful – especially after a week like this one. I'm not saying that this week was horrible; because it wasn't. What I'm saying is that there have been times this week that I wish I could fix, do over, or avoid. Yet, it seems when life starts "needing" a do-over button, that's when amazing and unexpected moments happen.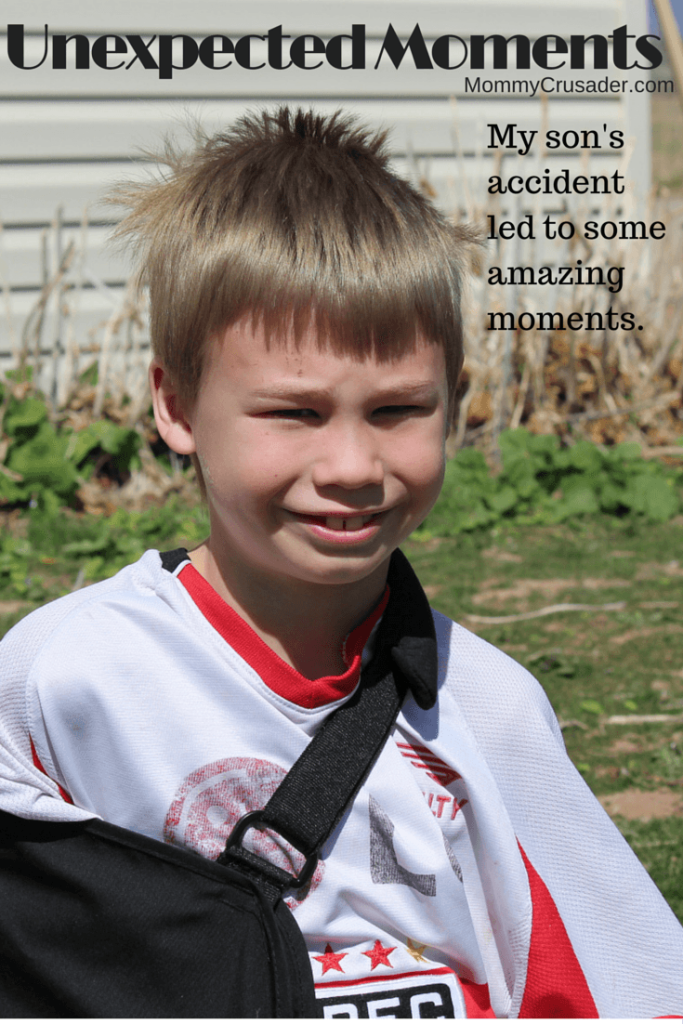 It is amazing how the peace of God can come in the oddest moments. My second grader used his face and shoulder to break a fall from the high bar at the school playground Friday. Of course, I took him to the clinic for x-rays, etc. The clinic got us to the exam room very quickly – and then we waited. I knew in my heart that he would be okay, that his body would heal. But what I didn't know was how much this time of waiting would heal my heart.
I really don't like waiting in examination rooms for very long – I usually get so bored and a tad claustrophobic. But this time was very different.
I got to spend three precious hours with my second child.
This is my child who is calm, loving, gentle, kind hearted, and generally obedient. This is my angel child who doesn't require extra work or attention or effort to teach about how life works. He just gets it. So, during the normal week, I spend some time with him, but not nearly as much as I spend with a few of his siblings.
And this trip to the clinic gave me time to spend on him, and only him – and it was amazing. We got to talk about his day, the accident on the playground, his friends at school, what goes on in his classroom. Normal, second grade stuff, for the most part occupied our conversation. But it was the chance to just talk and spend time together that made this moment so peaceful.
I got to see him, again, really see him today. It's been a long time since I had the chance to sit down and really see him. I got to see his patience, long suffering, and gentleness in amazing ways. I witnessed his obedience when the X-Ray tech completely straightened his shoulder for a final X-Ray. I saw him overcome the pain that caused and do it anyway because his Mommy had asked him to do it. I got to see his humor and light heartedness as he joked a bit with the doctor examining him, and as we goofed around while we waited.
So, while we sat there and whiled away the time together, I was blessed to see more clearly who he was becoming and that gave me so much peace. He is on a path to become a good man, a good father, a good husband.
So, while I hurt because he hurts and I wish I could have a do-over for him, this accident led to a deeper and more peaceful experience than I expected.