Pretty as a Princess
The other day I was shopping, and I bribed my kids. Yep! I did it. I said "If you two are good – meaning don't ask for everything in the store and stay right with mommy – I'll buy you a toy." The toy I meant was from the dollar aisle, so it wasn't that big of a bribe. It worked. The kids were well mannered, the shopping got done efficiently, and so I let them pick out a toy. My Kindergartener picked out a game, and my preschooler picked out what I thought was a pretend makeup kit.
It was a real makeup kit – just "formulated for children". Seriously! Why do children need makeup in the first place? But that's a rant for another blog post.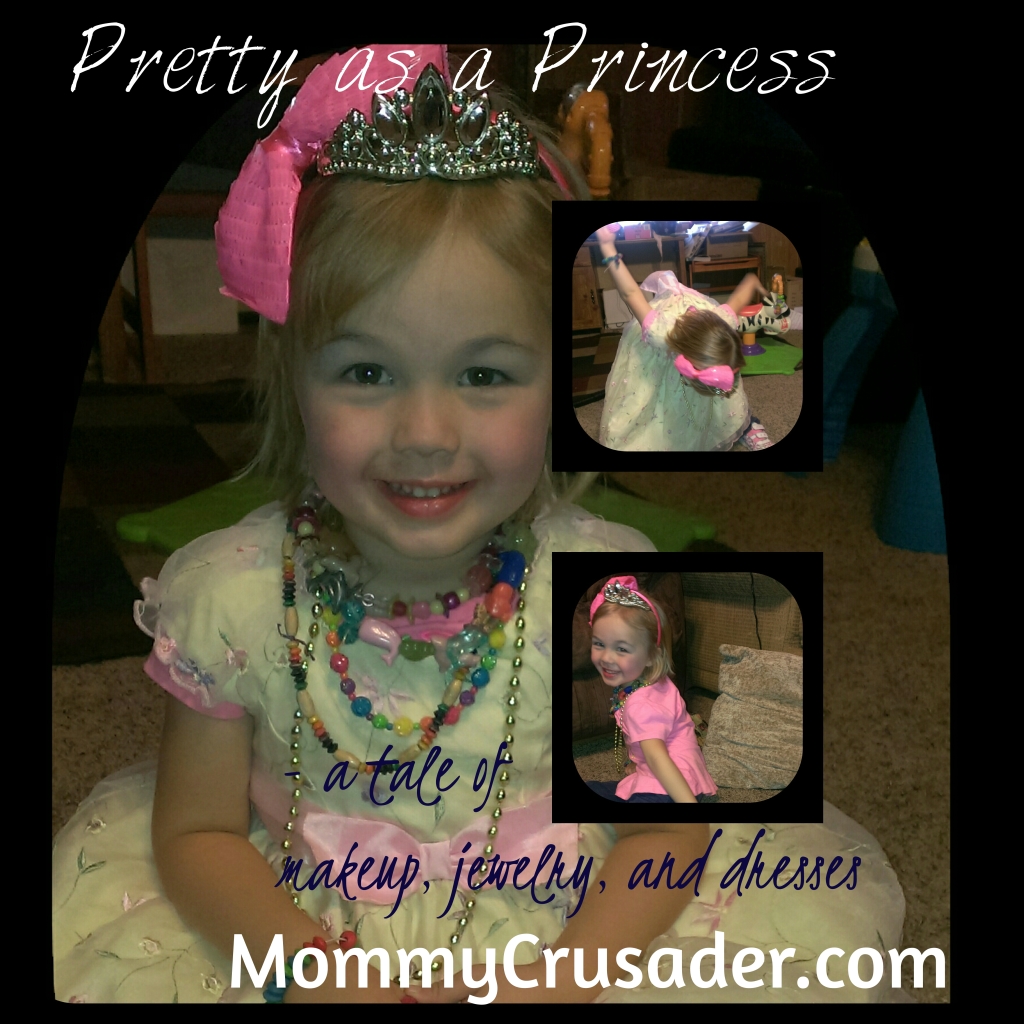 Makeup?
I let her keep it. I even opened it and helped her apply it the first few times. I cooed over her and said she looked fancy. And as I was doing so I wondered why she liked the makeup so much? I am not a makeup wearing adult. My children rarely see me applying makeup. I'm more of a pony tail, jeans and tee shirt, minimalist type of a person. I know how to dress professionally, and at times I enjoy fussing over my appearance, but it's just not a high priority. I'm usually happy just to get a shower in the morning.
So, where did this affection for makeup come from in my daughter?
Not only that, but after she'd applied her makeup by herself, she was upset with me because I wouldn't tell her she was pretty. I told her she looked fancy. My husband and I have tried really hard to teach our daughters that they are beautiful as they are. We say jewelry, hairdos, fancy clothes and makeup are fun, but they aren't necessary to make someone pretty.  We should make sure we take care of ourselves, clean ourselves, and look well groomed, of course, but makeup, jewelry, and fancy clothes are just that – fancy. It's the whole "beauty comes from within" idea.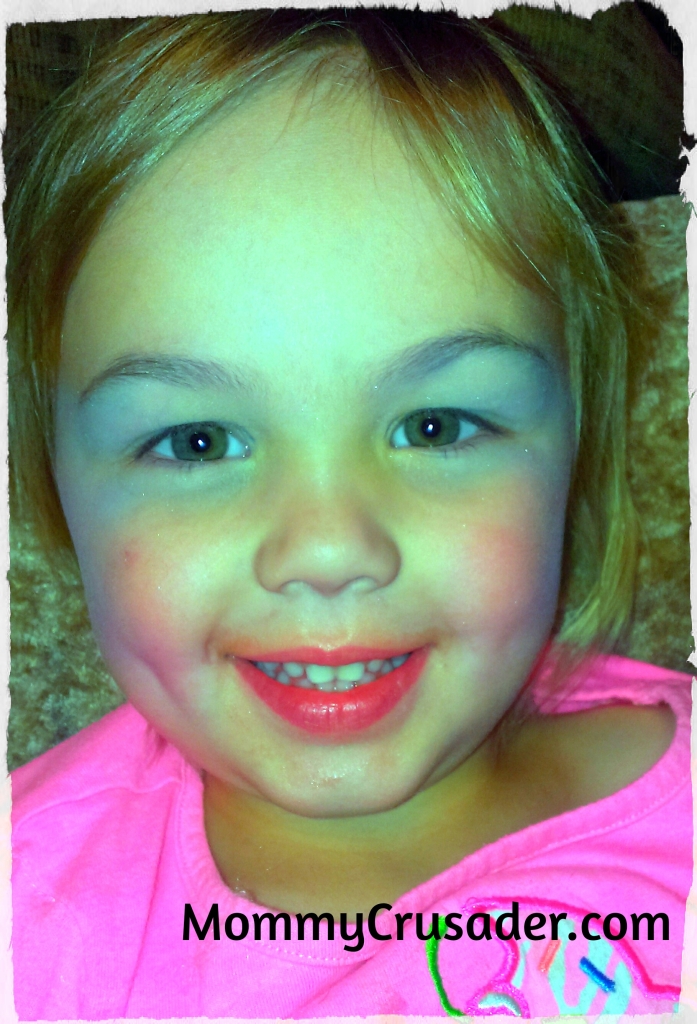 Jewelry?
After she got "good" at applying her makeup – she started looking a lot like a 1980's punk rocker, but that's beside the point; she started putting on all of her dress up jewelry, coming and finding me, and saying "Now am I pretty?" My answer has been, "You are always pretty, but now you look fancy."
Again, I am very simple in the jewelry department. My wedding rings, a ring my Grandmother gave me, and maybe a necklace – that's it, that's all I wear.  So, again I find myself wondering where my preschooler has learned that jewelry makes a girl beautiful.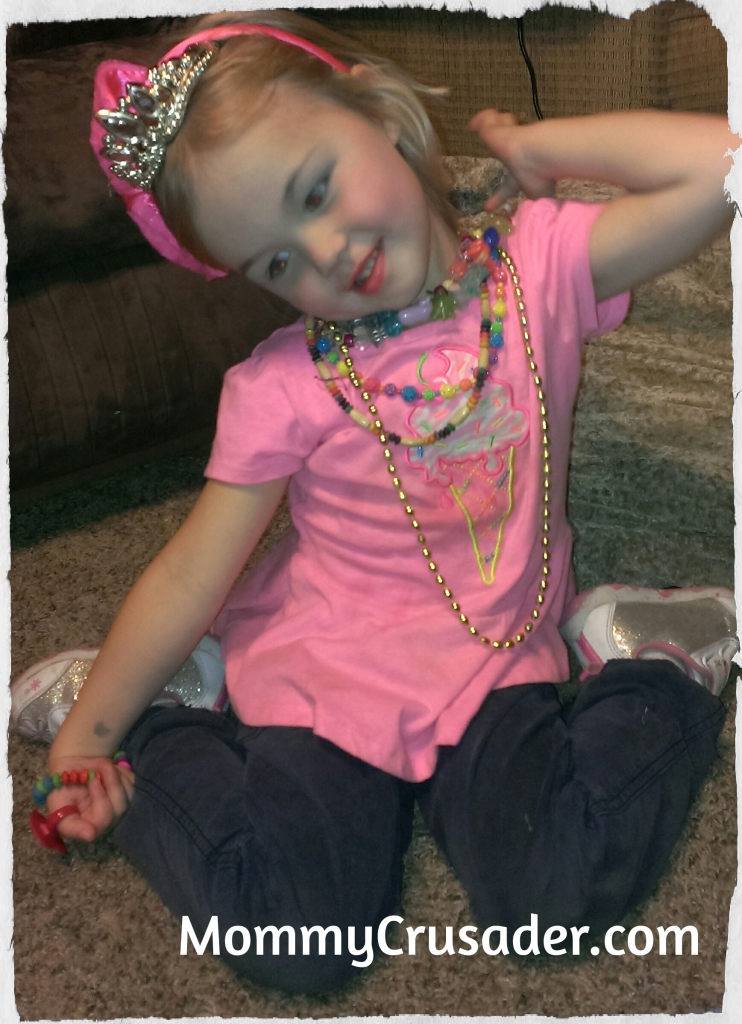 Dresses?
She tried one more time. This time she got into her princess dress, added all of her dress up jewelry, applied her makeup, and came to find me. And again she asked "Mommy, am I pretty now?"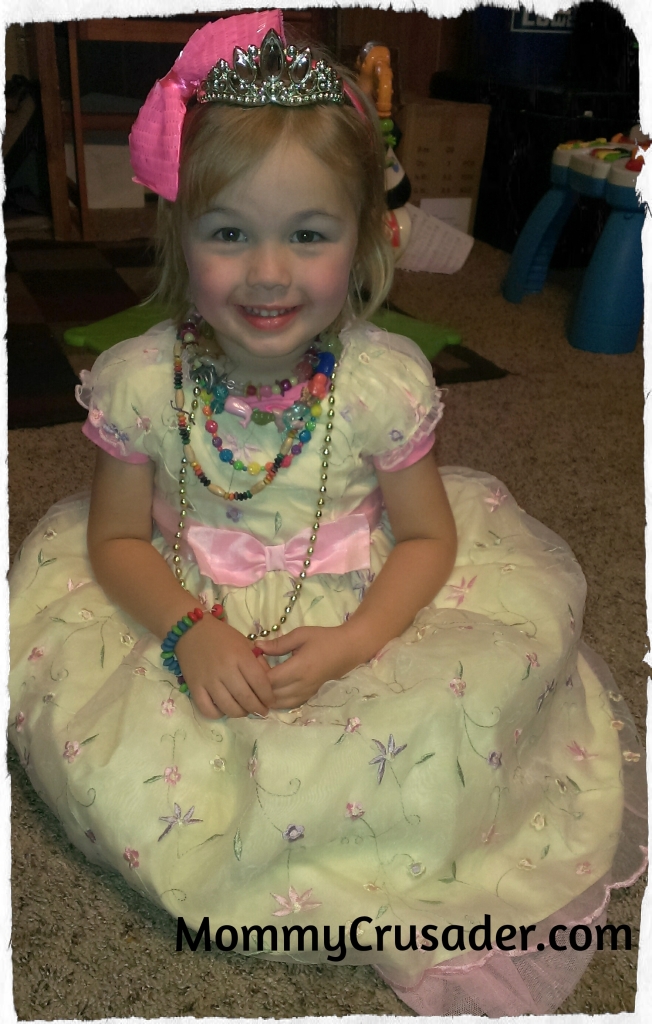 My heart nearly broke. I gathered her up into my arms. I told her she was beautiful. I told her she was lovely, beautiful, kind, pretty, and amazing. I didn't place any stipulations on being those things with or without the fancy clothes, jewelry, and makeup.
She then told me I was squishing her and messing up her makeup. So, apparently the moment wasn't as important to her as it was to me.
But it left me with some lingering questions. The main one being, how can I teach her that makeup, jewelry, and fancy clothes aren't what makes someone pretty? How can I teach her to love herself as she is? How can I teach her she is always amazingly beautiful, no matter what she looks like on the outside?  Anyone have any thoughts? I'd love to hear them.