It's been a long time since I shared a recipe. I honestly have been taking a little break from much creative cooking. It's been a time management issue. However, the other night we were having tacos, and we needed some refried beans. I didn't have any in a can. But I did have all the ingredients to create Tres Frijoles — homemade refried beans.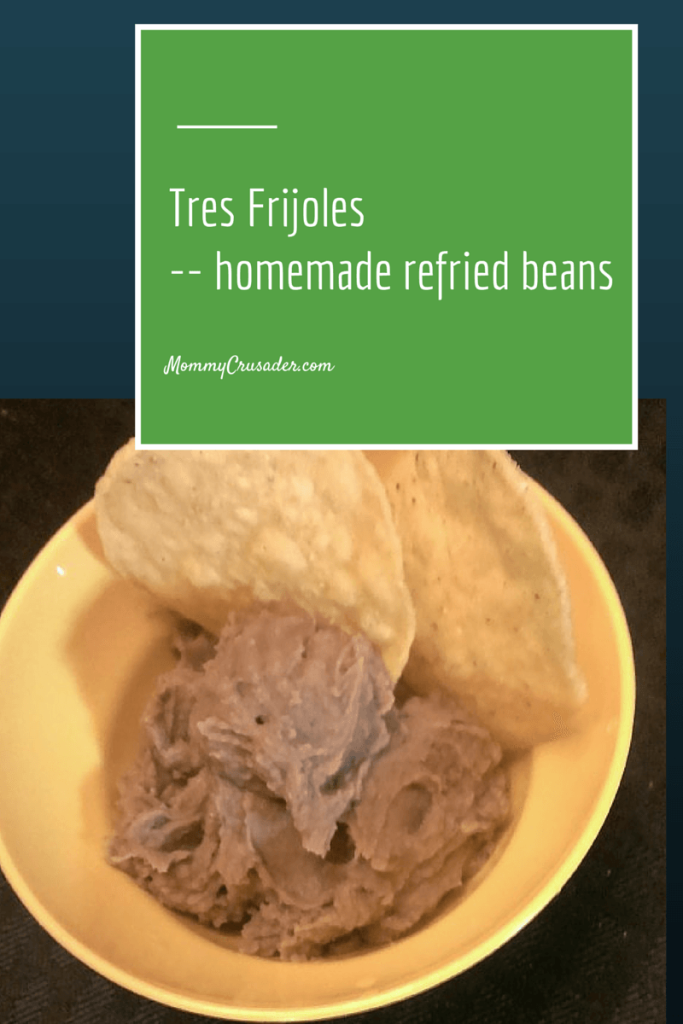 I like using beans in recipes. I usually add some black beans in with my hamburger when I'm making Mexican food. This addition makes the hamburger go farther, and that's important when feeding a family of seven. Beans are very nutritious and are an inexpensive protein source. I use canned beans because I cannot, for the life of me, make the dried beans work. I have soaked them for 48 hours, and used all the tricks people have shared with me. I get so frustrated trying to use the dried beans. I've finally decided that for me, the only thing dried beans are good for are making bean bags, but I digress.
When making this recipe, I wanted to also include some of the fresh vegetables hanging out in my fridge. So, in addition to Great Northern beans, Pinto beans, and Black beans, I used bell peppers, fresh garlic, and yellow onions. It was the first time I saw all my children willingly consume onions, fresh garlic, and bell peppers. I probably could have hidden anything in the beans and they would have eaten them.
The process for making these beans is really fast, but does use three different pans.  I start in a sauce pan and cook the beans and vegetables. I let them simmer for a while so that everything gets very soft. Everything needs to be softened so that it can be blended together and create a consistent texture.
After everything is softened, it gets blended into mush. I highly recommend using a Magic Bullet when blending the cooked beans. It just created a great consistency for the final frying of the beans. It also tolerated the high temperatures of the heated bean mixture. I've had some blenders completely lose their rubber seals because I put hot food into them. Live and learn.
Also, and this is only my preference, but I used actual butter to make these beans. I love the flavor of browned butter. There is a satisfying richness that is added to the beans when the butter is used to fry them. Plus, the amount of butter isn't all that much, considering the dish fed eight people.
The beans turned out delicious with only enough left over for my husband to use as a dip with tortilla chips that night as a snack.  This recipe made the beans disappear into my children's tummies with a smile and a thank you.  They were a satisfying addition to our meal. Not to mention, they were made fresh, and I knew exactly what was in them – which is always a reassuring thought.
And so, without further ado, here's the recipe.
Tres Frijoles, Homemade Refried Beans
Ingredients
2 cans of black beans
1 can of Great Northern beans
1 can of Pinto beans
1 clove of garlic, minced
1 yellow onion, finely chopped
1 green bell pepper, finely chopped
1/2 packet of taco seasoning
4 Tbsp. butter divided
Instructions
Open and partially drain all the cans of beans.
Place all ingredients and 2 Tbsp of butter into a saucepan and bring everything to a gentle simmer.
Simmer for 10 to 15 minutes, stirring regularly to prevent sticking.
Check for softness. If the vegetables are very soft, then add the mixture into a blender.
Blend until everything is well blended.
Put remaining butter into a frying pan and melt.
Add blended mixture to frying pan.
Fry the beans for about 10 minutes on medium heat, stirring occasionally to avoid burning.
Serves 8
http://mommycrusader.com/tres-frijoles-homemade-refried-beans/