Valentine's Day is coming. It's only half a month away. So, it's time to get my pink, red, and white on. My children love making things for holidays – gifts or decorations. To help satisfy their longing to create, and to build some fine motor skills, we sat down and made tissue paper hearts.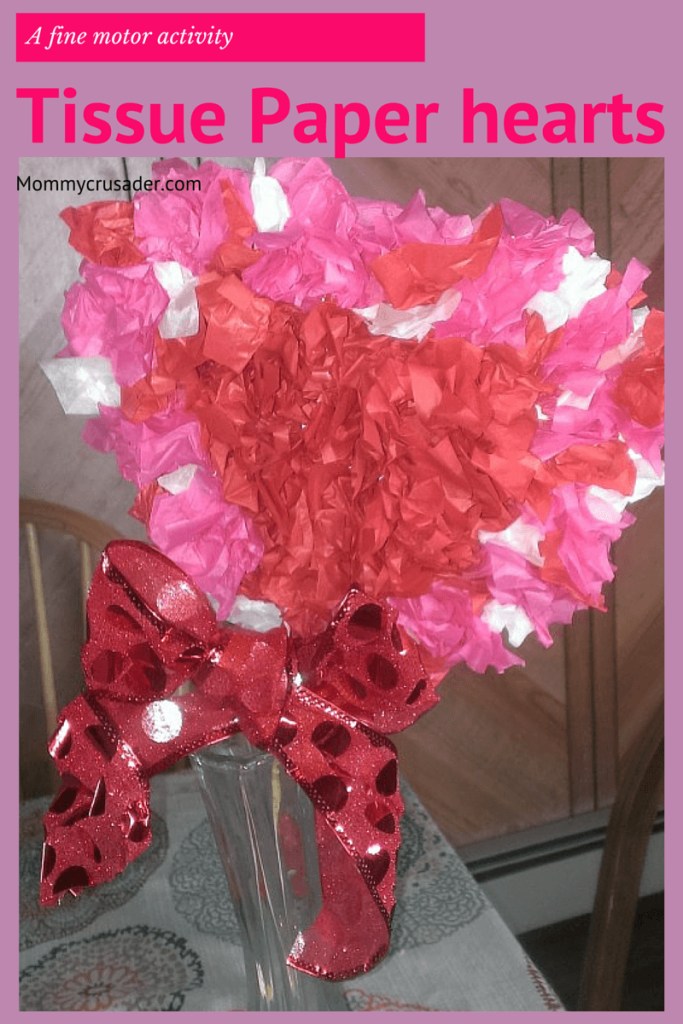 Materials for 1 heart:
1 cardstock sheet of paper with a heart on it. Download a printable image here.
2×2 inch squares of red, white, and pink tissue paper (I cut up 4 full sheets of tissue paper for each color)
Glue sticks or craft glue (depending on preference)
1 wooden stick (I used a BBQ skewer)
Masking tape
Directions:
First, cut out the heart. We did this step last and it was a lot harder because of all the tissue paper. So, learn from us, and cut out the heart first.
Now it's time to crumple the tissue paper. It's best to try and crumple the paper so it looks like a flower. This is done by twisting the center of the tissue paper slightly. Crumpling the paper will help little hands develop fine motor control. We only crumpled the tissue paper as we needed it, instead of crumpling a bunch ahead of time.
Next, it's time to glue the tissue onto the cardstock heart. It's best to apply glue to one small area (about 2×2 inches square) at a time. After the glue is applied, place the crumpled tissue paper. Be sure to push the tissue paper close together – this creates a fuller look on the finished item.
Continue adding crumpled tissue paper until the entire front surface is covered in tissue.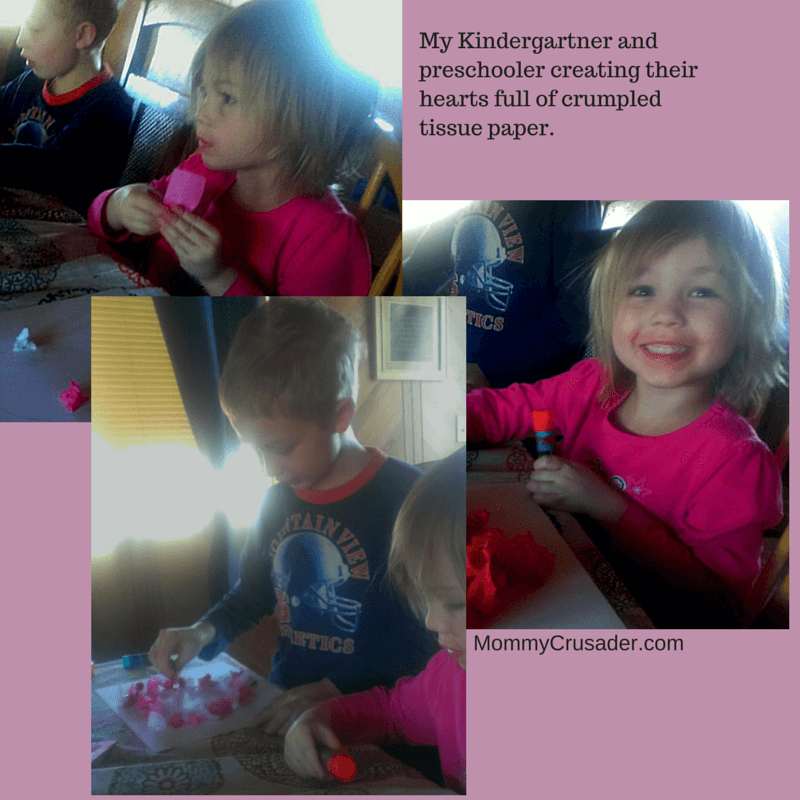 This completes the craft for the little ones, but for older children, the back can also be covered in crumpled tissue to create more of a three dimensional design. But before turning the heart over and getting started, there's one more step to do.
On the back side of the heart, take the masking tape and tape down the BBQ skewer.
After the BBQ skewer is taped in place, it is time to start gluing more crumpled tissue paper on the back of the heart.
After the heart is filled in, the project is all done and ready to be given away as a Valentine for a teacher, parent, or best friend. Or, if the back has been filled in, the heart would make a beautiful addition to roses for the table.
This is a fun, fast craft that little fingers can do alongside bigger fingers. I sat down with children ranging from age three to age six, and every one of us had a great time. I had some children make patterns out of the crumpled tissue, too. So, we actually got to reinforce the pattern concepts we had recently talked about during learning time with my preschooler. Some of the children even came back for a second round – because they had so much fun the first time.