Cooking for a family of seven can be challenging. I try to respect everyone's personal tastes and make food that is appetizing to both grownups and children. Oh, and I try to find some nutritionally redeeming quality in the recipes I use, too. Satisfying this list is very difficult sometimes. So, on Saturdays I like to take the day off from trying to find nutritionally redeeming recipes – especially for breakfast. Hey, even Moms need a day off every now and then. Besides – I think childhood should have treats and sweets sprinkled throughout it.
I have a favorite pancake recipe that is super easy, minimal in ingredients, and works great every time. I love using this recipe and adding different things to the batter or making different types of fruit toppings. I have even made the recipe nutritionally redeeming by substituting whole wheat flour or ground oat flour, applesauce (for the oil), and flax seeds (for the egg). It still tastes great, but I didn't use the healthy modifications this time.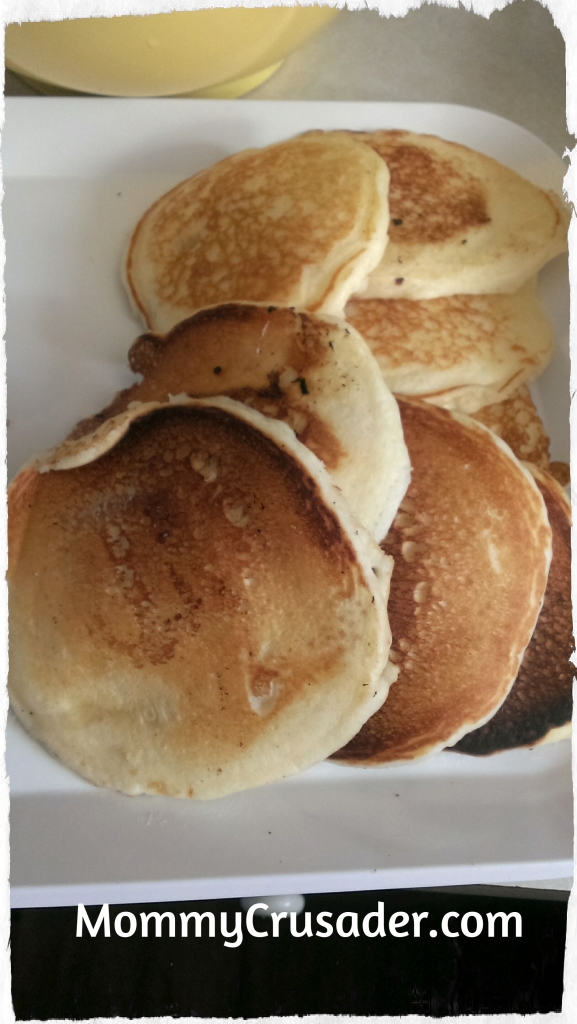 I modified this tried and true recipe the other day and ended up with something really good. My fourth grader gave the recipe its name – Strawberry Shortcake Pancakes – after eating the pancakes. The Strawberry Shortcake Pancakes were warm, melt-y on the inside, sweet, and definitely not imbued with anything that would be considered nutritionally redemptive. My inspiration for this modification came from my kids singing the "Strawberry Shortcake" theme song.  Weird, I know. Either way, we ended up with a delicious batch of pancakes that were a good fit for a lazy Saturday morning. (Although, who really has lazy Saturdays anymore?)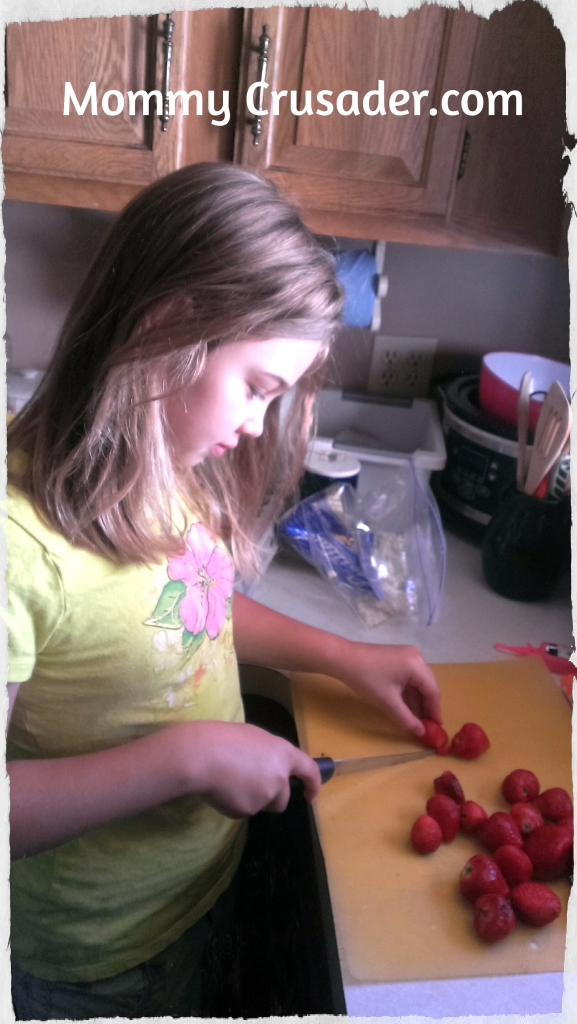 The pancakes cooked quickly, and the sauce was even easier to put together – mostly because I have excellent sous chefs, namely my husband and fourth grader. Our fourth grader helped with the prep-work and my husband did the chopping. It's always fun for me to cook with helpers, as long as it's a recipe that I'm really familiar with. Trying to have my kids help me with a recipe I'm still learning causes me stress. And stress, I'm told, does not make good food.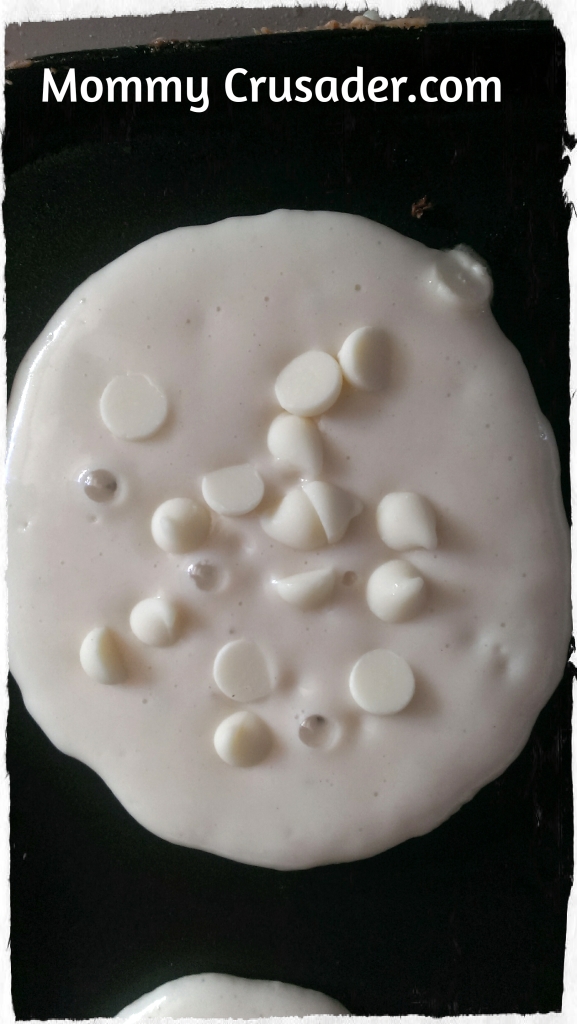 In hind sight, I should have doubled the amount I made for the strawberry topping. We ran out of the strawberries before we ran out of pancakes. This might have happened because I like my pancakes smothered in the topping, so your strawberry usage may vary. And while maple syrup worked with the recipe, the strawberries tasted so much better. We could have added whipped cream on top, but the white chocolate chips added enough vanilla flavor, and warm creamy goodness, that we didn't miss it.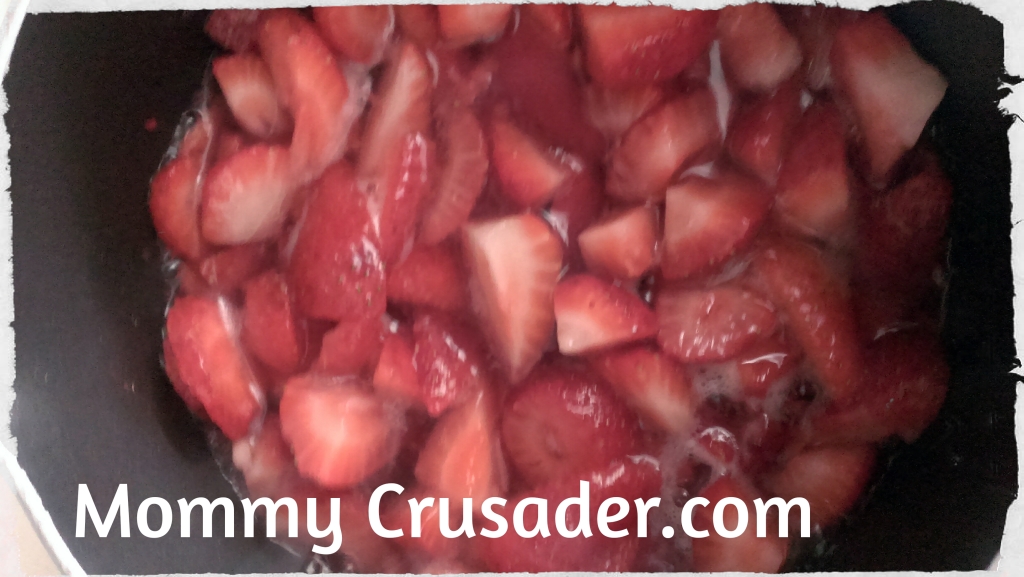 Before we get to the recipe, I need to give credit to my mother-in-law for sharing the basic pancake recipe with me. She says she found the recipe a long time ago in a Good Housekeeping Illustrated Cookbook. She gave it to me, along with hundreds of other fabulous recipes, as a wedding gift ten years ago. So, thanks Mom, we use the recipe all the time.
What are your favorite "Lazy Saturday Morning" recipes? I'd love to try them out.
Strawberry Shortcake Pancakes
Ingredients
Pancake Batter –
1 ¼ cup all-purpose flour
2 tbs. sugar
2 tsp. baking powder
¾ tsp. salt
1 egg
1 1/3 cup milk (for thicker pancakes, use only 1 cup of milk)
3 tbsp. oil
White chocolate chips
Strawberry Topping –
1 lb. of fresh strawberries, chopped finely
1 cup of sugar
1 cup of water
Instructions
For Pancakes:
In a large bowl, mix first four ingredients. Then stir in egg, milk and oil. Stir just until all flour is moistened.
Head pan with a little butter. Pour batter by scant a ¼ cupful, making a few pancakes at a time.
Place a handful of white chocolate chips in each poured pancake.
Cook on medium heat until bubbly and bubbles burst; then turn and cook the other side until golden brown, about 2 minutes longer.
Sauce Preparation:
Place all three ingredients in a sauce pan and boil for 5 to 7 minutes until the strawberries are softened and the sauce has reduced a bit.
Top the pancakes with the strawberry topping as desired, and serve. This recipe makes about six servings.
http://mommycrusader.com/strawberry-shortcake-pancakes/