We have a tradition in our home where the house is quiet after lunch for a couple hours. We call this time quiet time. Quiet time lets everyone recharge so that the rest of the afternoon and evening goes more smoothly. It's one way I try to fight off the "witching hour" from 4:30 until 6 in the evening, so it's a really important time of day.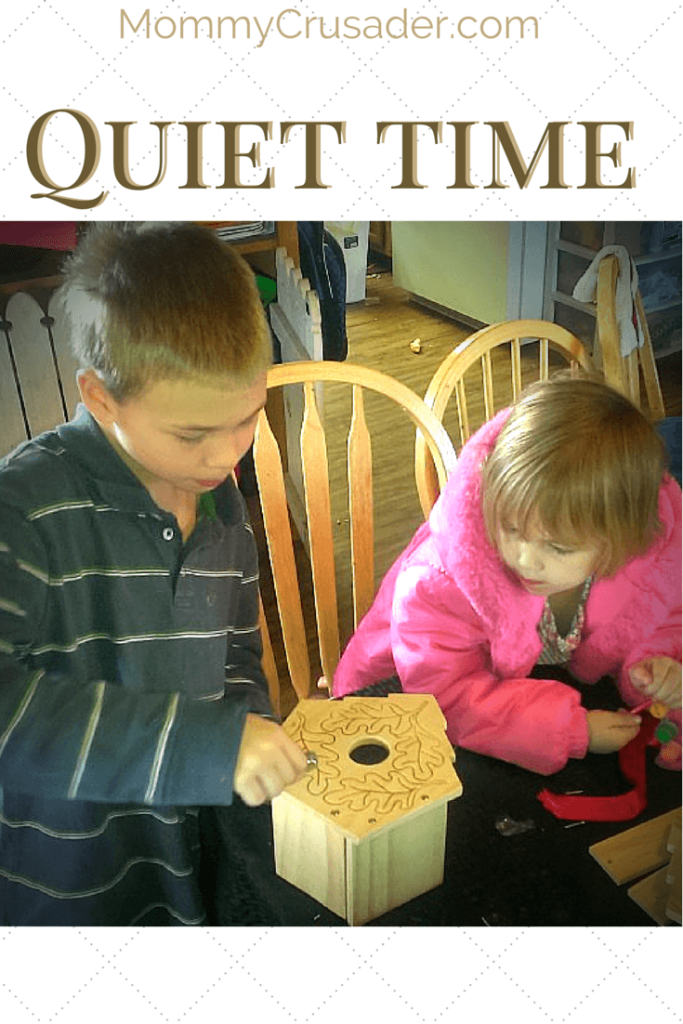 During quiet time, all screens – including Mommy's – are turned off. Everyone is sent to their rooms to rest on their beds for 30 minutes. This ensures that Mommy is able to get the baby down for her nap. In addition to the all-important baby's nap, some of my children are young enough to still need naps (but think they don't). Resting in the beds gives their bodies a chance to go to sleep, if need be, or a chance to relax and refocus for the rest of the afternoon. Often times, my preschooler will end up falling asleep for at least an hour. And while she and the baby are asleep, I have time to spend with just my older children.
During the time I have with my children while the baby and possible younger children sleep, I try to do quiet, yet engaging activities – activities that cannot be done while the baby is awake. We work on building Lego sets, painting, building things, or sometimes, we'll play board games together. There are a lot of bigger kid activities that aren't safe to do with a baby. The parts are small, or hammers are needed, or it just takes the adult's full attention to help the child succeed at the project – which isn't very plausible with a busy 18 month old running around.
Also, my bigger kids need attention, specifically my attention just as much as the baby does. The only problem is that the baby gets a lot of my attention because she is at that dangerous exploration stage, where every day her to do list includes "Try to kill myself, again." She'll jump from the table, the chairs, climb whatever she can, and has tried to get drinks from the toilet – all in about one hour. So, I have to make sure that I'm always watching her right now. I know in just a few months, this stage will pass. But for now, her exploration makes it difficult to give my bigger kids as much attention as they need.
Giving my children a chance to refocus for half an hour, and then enjoy some time with Mommy really helps them get through the last part of the day until bed time. Their bodies need the down time and, frankly, so do their minds. And, because I believe in being honest, so do I. I need those moments to collect myself, do some informal planning, and refocus for the rest of the day. After quiet time comes snack time, homework time, chore time, dinner time, bath time, story time, and bedtime. So, for those few brief moments, life is calm and peaceful. This fills me up so I can help my children through the rest of their "times".
I would love to report that my children willingly go through this no-screens quiet time. Some days they are very obliging. Most of the time, it's a bit of a battle. But, I've learned that the little battle earlier in the day saves a lot of bigger battles later in the day. It's amazing what those two hours of calmness does for my children's equilibrium and ability to deal with life.