My family loves to play games. We love to play board games, card games, and strategy games. We aren't "gamers" because we rarely play video games, but do enjoy the occasional MarioKart Wii or Mario World game. We're always up for a game night. I think it is my children's favorite way to pass an evening. Over the course of the last few years, I've learned a few ideas to make hosting a family game night more fun for everyone.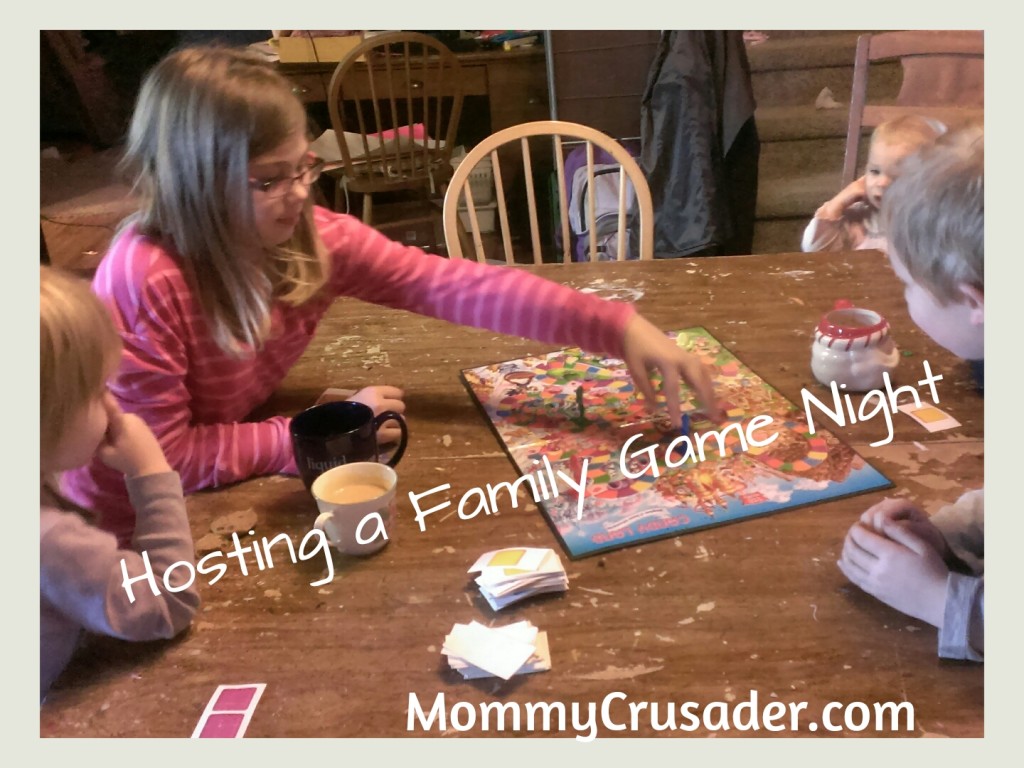 When planning a family game night, make sure to start early enough in the evening so that there's enough time to finish the game playing before bed time. Kids, just like adults, really like to finish the game they've started before going to bed. There have been times when we've had to "call" a game because we were running way over and the kids had school the next day. Our children really didn't appreciate that parental decision, and it made for a rough bed time transition.
Also, it's very important to choose a game that is possible for all children to be able to play. That doesn't necessarily mean that they play the game independently. Parents and young children can "team" up to make older games friendlier for the younger children. We are currently in the midst of a Monopoly Revolution championship series. My Kindergartner and second grader are tied a one game apiece. My preschooler plays on Daddy's team, and Mommy usually does her best to send good deals and advice to the second grader and Kindergartner – to make it fair. That way, our fourth grader can play a game she finds fun and entertaining. There's only so much Candy Land you can expect a fourth grader to play.
While teaming up really helps, sometimes the littlest ones still can't make it through a game. For those moments, it's a good idea to have a bin or bucket of toys nearby so they can play independently, while still being part of the group. Often, it only takes Mommy to interact a little bit with the toys and baby, and the baby is happy for the duration of the game. This allows the game to be played and the littlest ones to feel included – which is what they want anyway.
Finally, the addition of snacks and treats really makes the night special. We usually include popcorn and some sort of candy for everyone to snack on. We've also included fruit slices too, but they are juice which can cause damage to the game board or pieces. We try to stick to foods that don't have liquid or cause children to lick their fingers.  But chocolate does make a regular appearance.
A family game night is an activity our family has come to truly enjoy. The cost is minimal, and the family time is amazing. The conversations that can happen truly deepens the family bonds and helps to show the kids that parents can have fun  too!
As we've played games together over the years, favorite games have come and gone, but there have been a few everyone has enjoyed and still enjoy. Some of our favorite games we can play with all the kids include Candy Land, Cutie Bugs, Clue Jr., Sorry, Kinder Bunnies and Racko. Our favorite games that are best played with just the older kids include Blokus, Apples to Apples, Carcassonne, Settlers of Catan, Ticket to Ride, King of Tokyo, Monopoly (my favorite version being the Revolution version), and Trivial Pursuit- family edition. We do have a few favorite games for when other families (read adults) join us. These games include Rook, Wits and Wagers, Telestrations, and Dominion. And we like to play Risk — but only when we have all day to play it.
Do you have a favorite family game or pass time you enjoy? I'd love to hear about it. Let me know in the comments below.