Last week, I featured a Thankful Tree from Three Kids and a Fish as part of the Retro Re-Pin Party I cohost with other amazing ladies. The idea really stuck with me, and I wanted to use it to help my family focus on our blessings. We spent the evening counting our blessings and building our own blessing tree.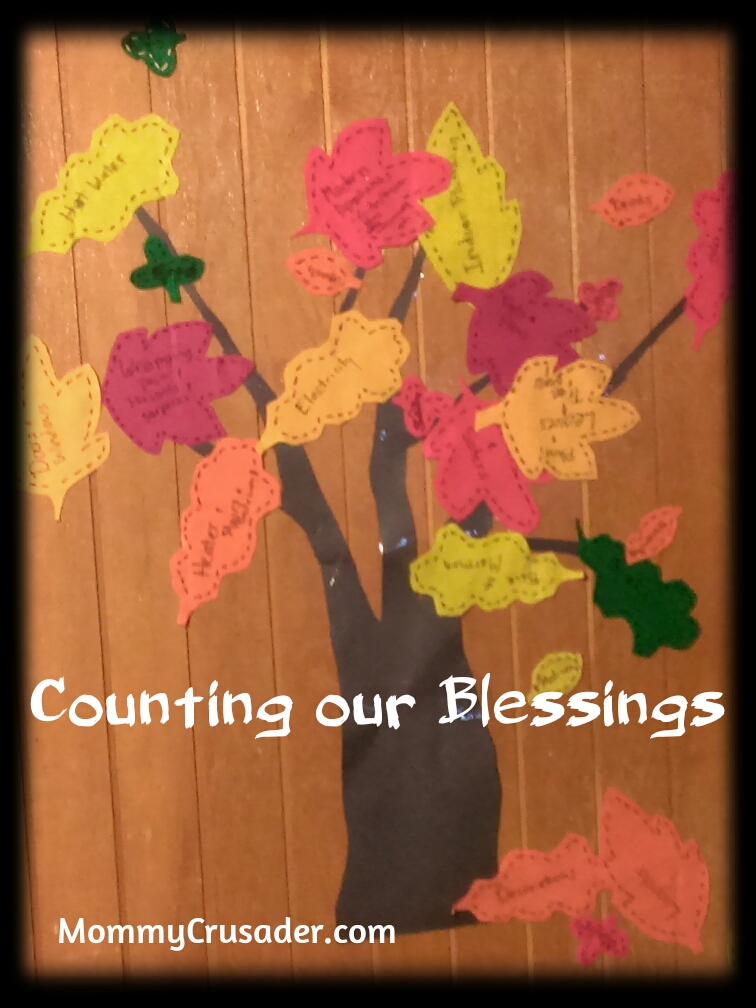 I had cut the felt leaves out at the beginning of November, with every intention of doing something with them. It wasn't until tonight, however, that I ran into the right something. We used them for our Family Home Evening lesson tonight.
We started out by singing "Count Your Many Blessings," from the LDS Hymn Book. We were still finishing our late supper. So, we discussed how all that we have in this life – from the air we breathe, to the ground we walk on, and everything in between – is given to us by our loving Father in Heaven. We talked about how no matter how hard we try – we could never begin to repay that dept. And that we aren't expected to repay it – but to recognize the gifts we are given and be wise stewards. Then we got out the leaves.
I acted as the scribe, and we started with our youngest child (who can talk) and went up the ages in the family. Each person got to name a blessing, and there could be no repeats. The blessings had to be specific – no "I'm thankful for everything" type of answers. We were still finishing dinner; so we had a lot of comments about pots, dishes, utensils, and food.  It was great. We named more than 33 blessings.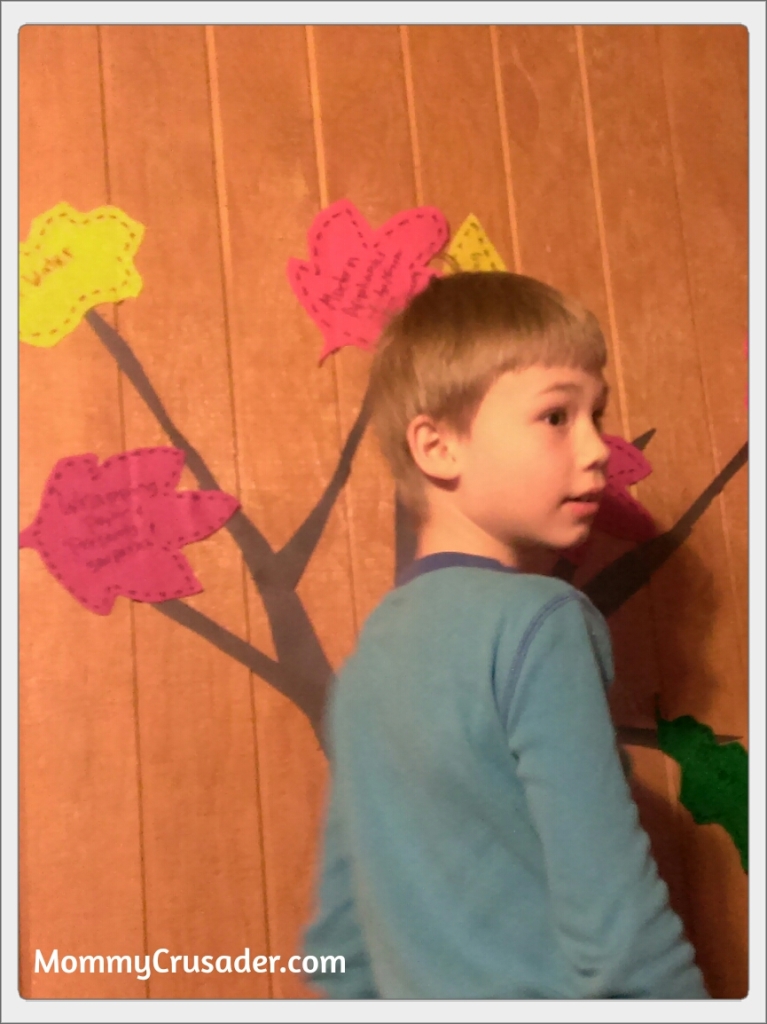 After we had run out of leaves, we took them into the front room. And we got to put our leaves on the tree. Our house has really rough wood paneling on the walls, so it's like we're living with flannel boards for walls. The felt leaves stuck fabulously on the walls without the use of any adhesives. The kids got a kick out of the fact that they leaves just stuck there, and could be taken off and re-stuck somewhere else.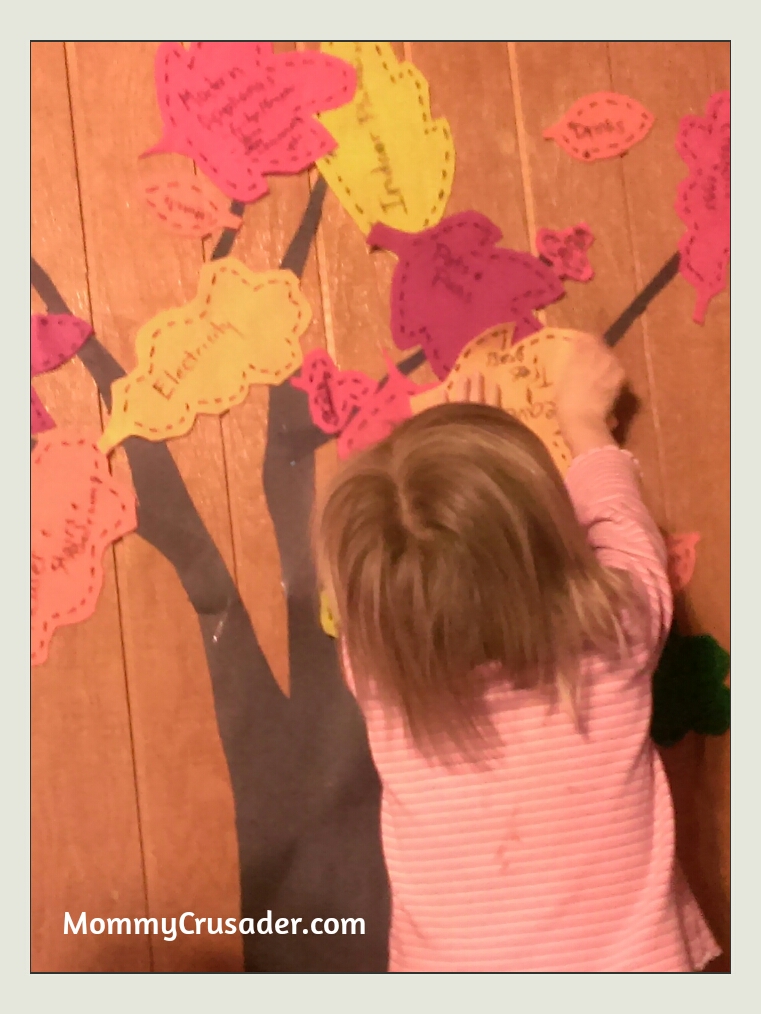 We took turns placing the leaves on and around the tree. Each child had their own style in placing the leaves. My second grader liked to launch the leaves at the tree and see if they stuck, which they didn't do very often. My preschooler got one of her little chairs so she could reach the branches "way up high".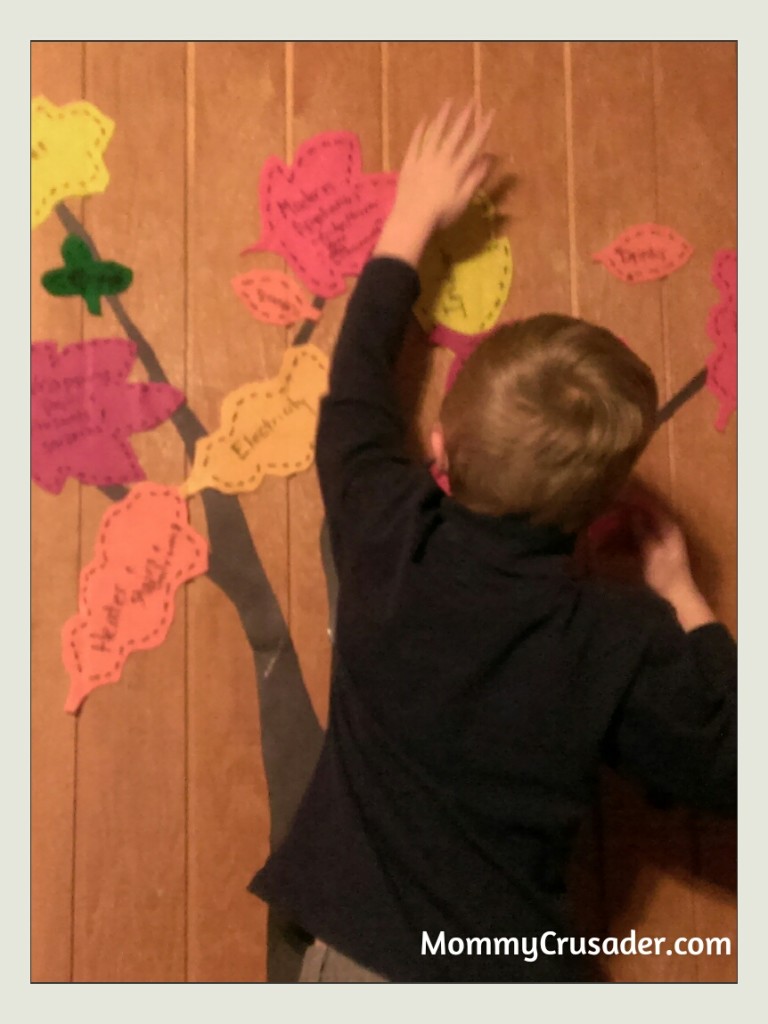 My Kindergartner loved to try to make the leaves look like they were falling from the sky. My fourth grader wanted to make the leaves be stuck to the branches.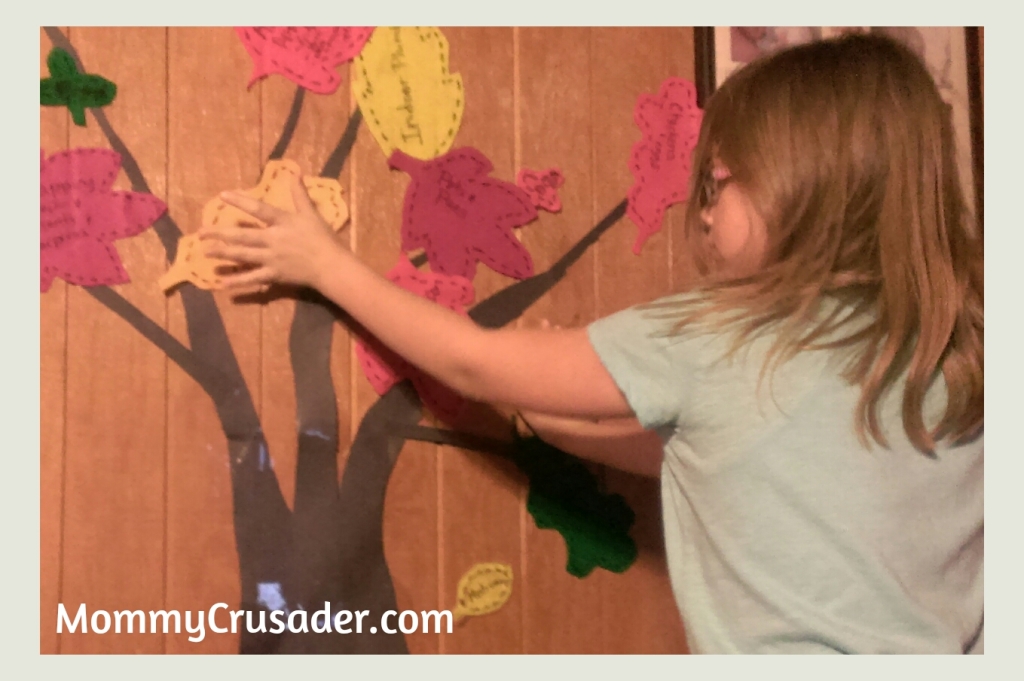 And my baby, well she was the cutest of all of them. (She is a baby after all). She LOVED sticking the leaves to the wall. She made a great leaf pile at about her head's height because I might have been giving her a few extra between the older siblings' turns. Then, she took them off and started handing them out to her brothers and sisters. So cute!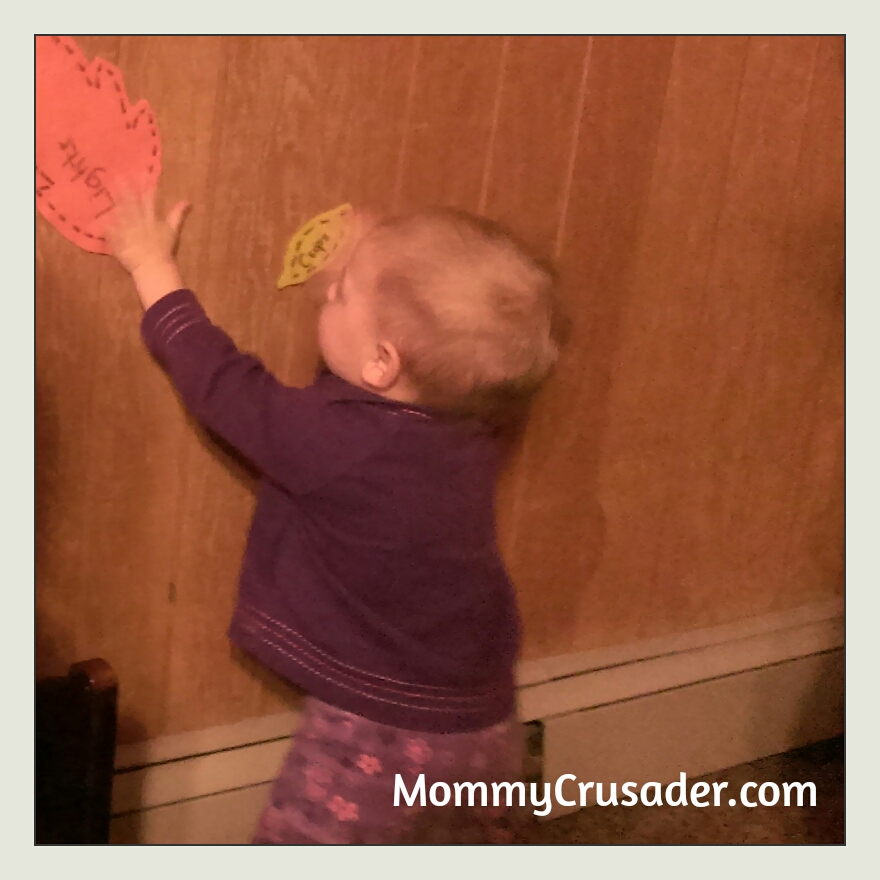 We didn't even make a dent in listing the many blessings in our lives with the leaves I'd cut out. So, I'm going to cut out more leaves, and we'll do this again, and again, and probably again, everyone enjoyed it so much. It may even need to become a Thanksgiving tradition.
How are you helping your family members remember their blessings this year? Let me know in the comments below!