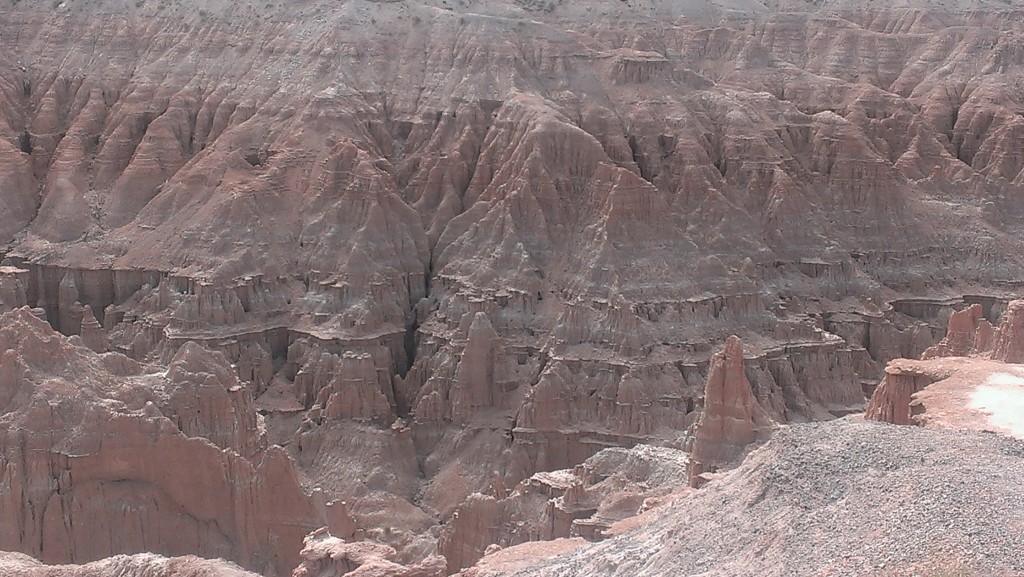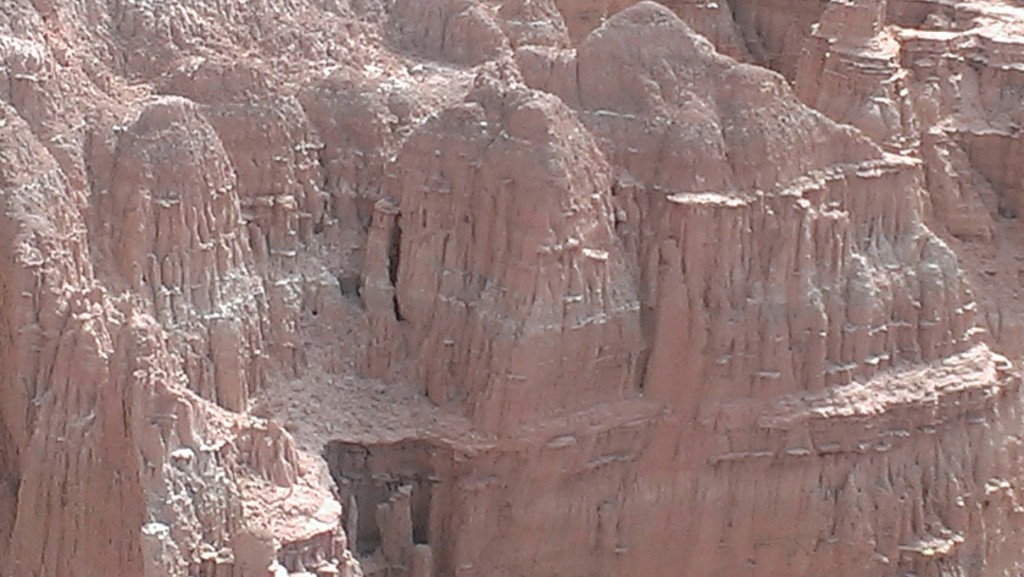 We recently spent a weekend camping at a fantastic state park, Cathedral Gorge State Park. While there, we found ourselves galloping around some slot canyons, formed by run-off through soft bentonite clay after Lake Bonneville drained a few thousand years ago.
These canyons are amazing! They stretch 50 or 60 feet into the sky and are full of twists and turns.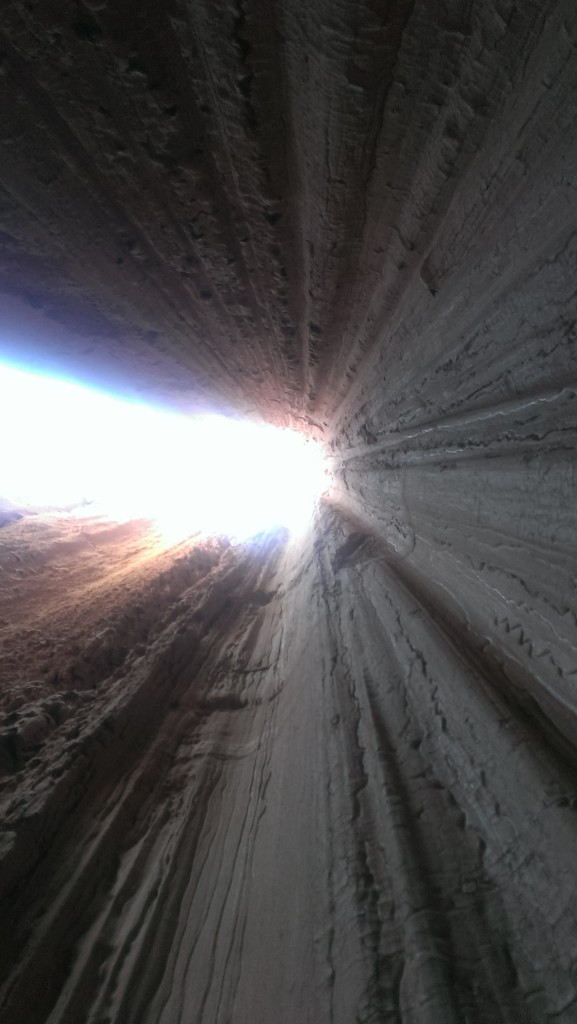 The canyons are honeycombed from the erosion, and make for fantastic running around places. The walls look like the clay just melted down the walls. And it was probably 15 degrees cooler in the canyons, perfect for a hot summer day.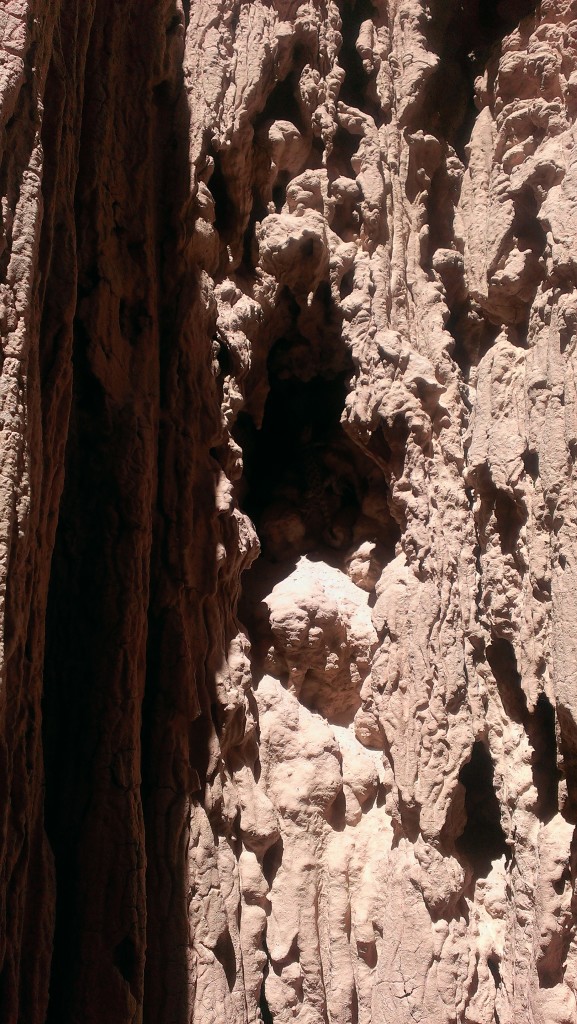 There are several sets of canyons to explore in this area. We explored all of them.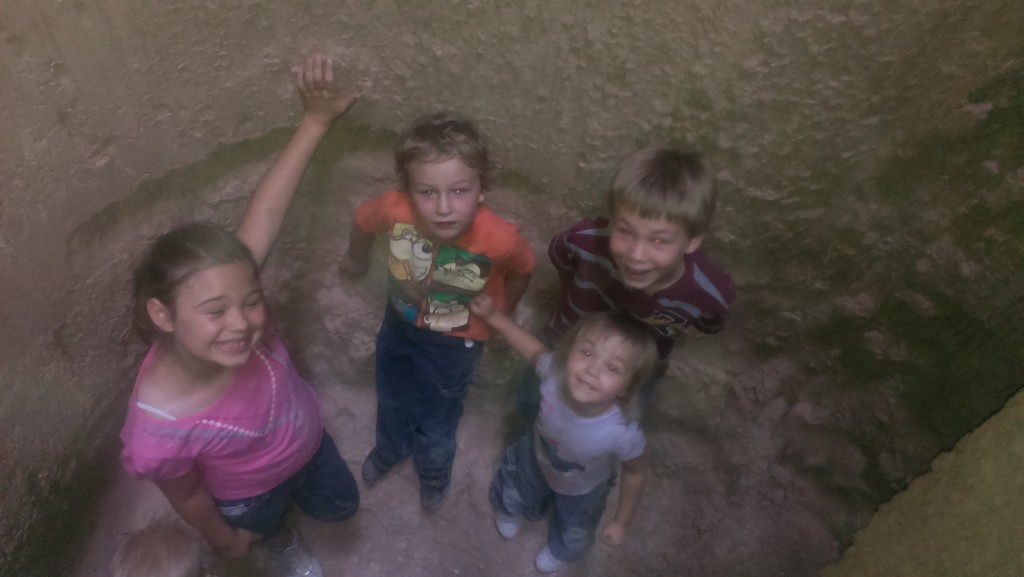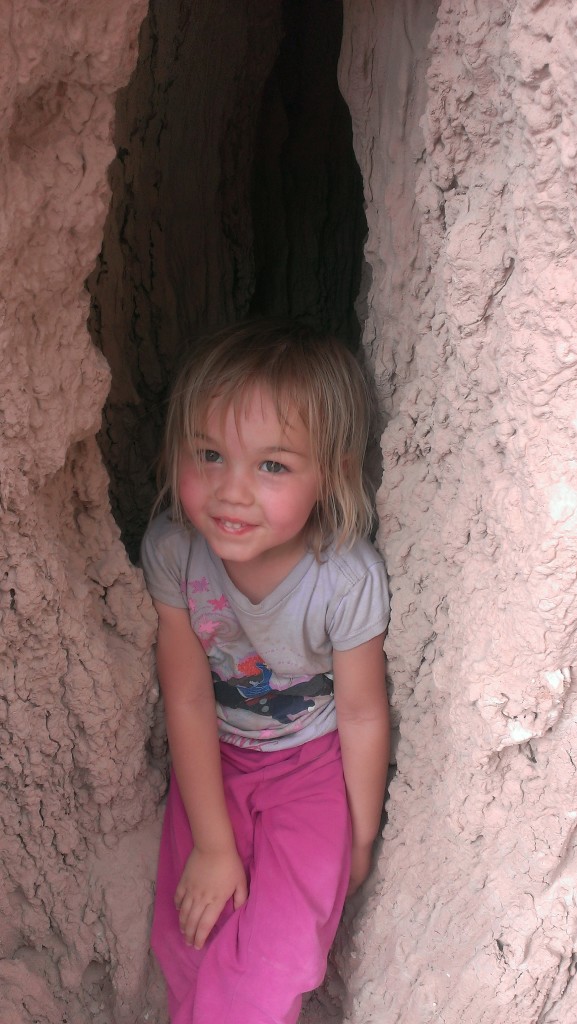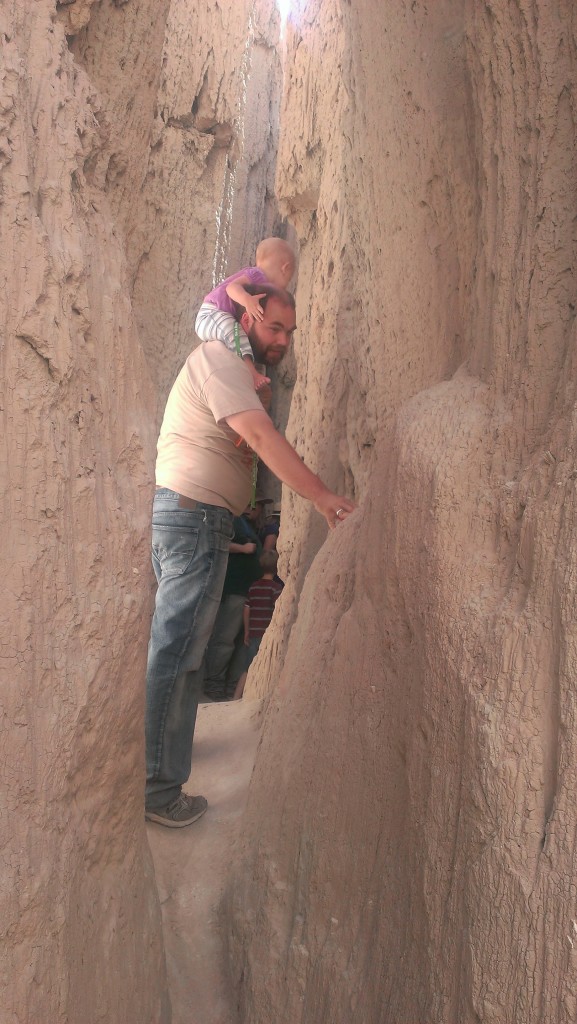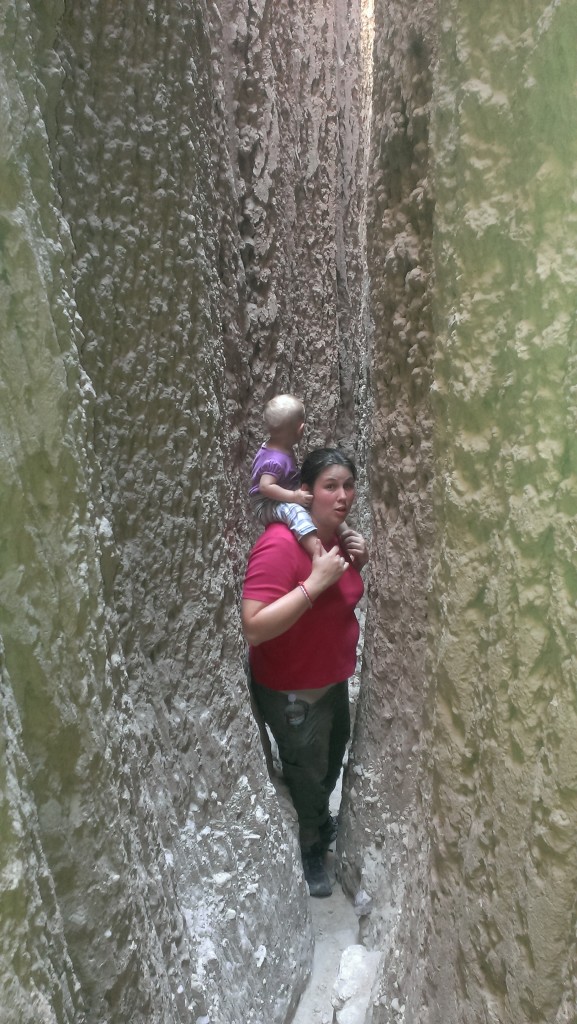 After we had finished going in the canyons, we decided to take a path going on top. It was a bit of a challenging hike with seven kids, from 8 years old to 10 months old. Several times we had to have an adult chain to pass children along. Fortunately, there were four adults, so that made it easier. We aren't quite as crazy as we appear. As we were hiking along, we found some canyons that looked like caves.
My husband loves to explore, and is part mountain goat. So, we would head over to one of the caves, and then send him in. He'd go poke around a bit, then let us know if he thought it was a good cave/canyon to explore.
We visited three of these areas, on top of the slot canyons. One was just a very large hole, all the way to the ground. It was cool to look at, but we didn't want our kids to get to close.
Another was a double hole in the ground. It was being formed by two apparent water run-off waterfalls, and the water just cascades into the slot canyons below. Absolutely stunning! But also one we didn't let the kids get to close to, either.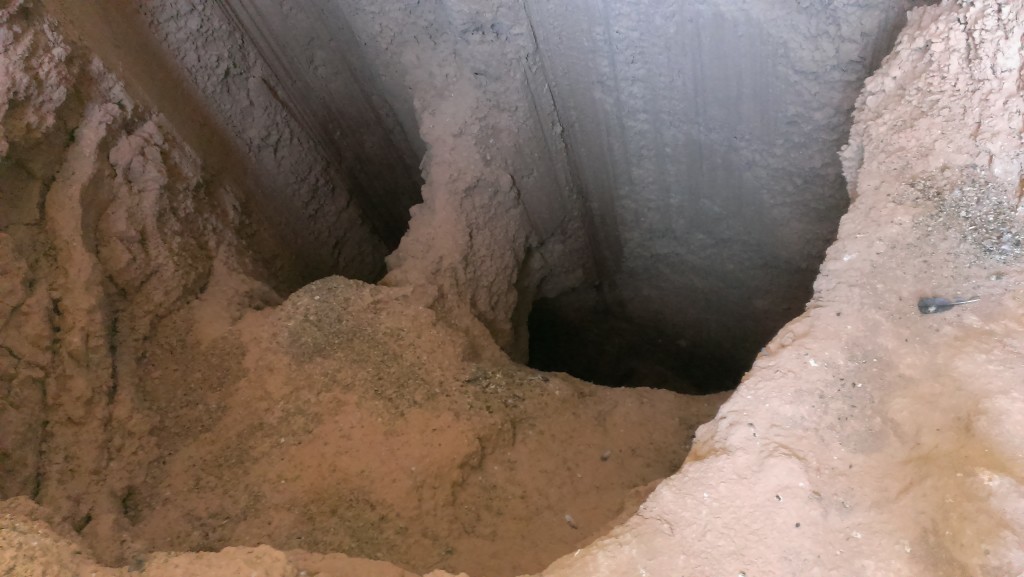 The final one we found looks like it has an amazing cave system in it. The hike into it is strenuous. Again, we had to form a chain of adults to pass the kids along in two or three different places.  After a few moments of exploring, though, my husband came back and said that he'd like to go explore, but that it's not a cave suitable for anyone under the age of 14. And he also said the explorers would need ropes, headlamps, cave markers, water, carabineers, and anchors to safely explore the cave.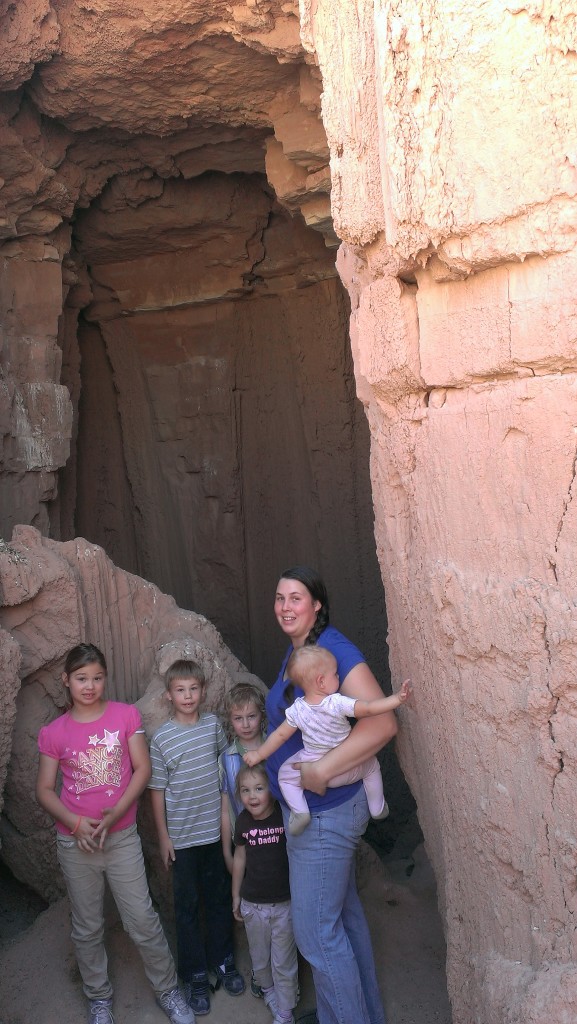 So, we didn't go into the cave, but I think we might have to go back . . . in a few years. . . when our youngest is a few years older. . .