"A funny thing happened while you were at the doctors," my dear husband said as I pulled up into our drive. "Oh, and what was that?" was my reply, fully expecting a funny anecdote about our new kitten and toddler. I was very surprised by what happened while I was out.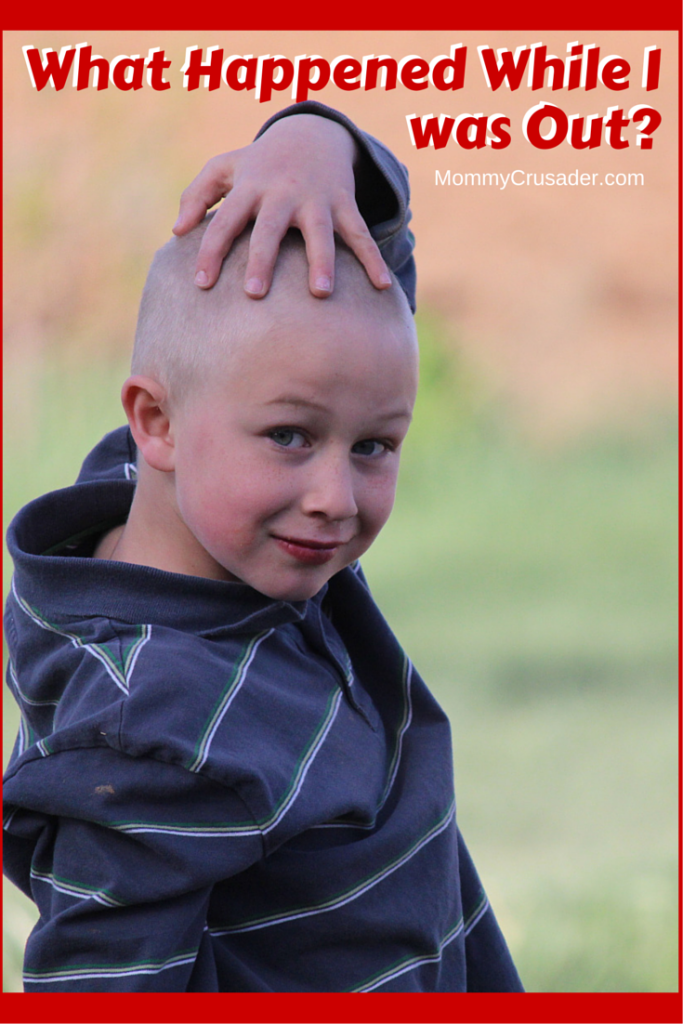 "The Kindergartner decided to cut his hair," my husband continued.
My next thought was how could he have cut his hair? It was just cut a week ago – there wasn't much left to cut. My Kindergartner still has baby fine hair that is fantastically curly if we let it grow out long enough. He's been called a "cute little girl" when he wears gender-neutral clothing. I love those curls – so I often let his hair grow longer because of how much I love his curls. So, as a compromise, when I cut his hair I cut it short – and then I let it grow out until he has his curls back. I usually end up with a week with his fantastic curls before he gets called a girl.
I'm sure my love for my son's curls was the reason my husband quickly came out of the door when he heard the truck drive up. I'm fairly sure he felt like he needed to prepare me for what I would find inside. He went on to explain.
"I'd put the clippers away from when you finished my hair cut, and was working on some of the housework. The Kindergartner was supposed to be putting away the clean dishes." He stopped here for a dramatic pause and perhaps to gauge how I well I was following his message. Then taking a deep breath he continued, "Instead of working on the dishes, he took the scissors and cut a four inch line up the middle of his scalp. I tried to fix it using a size two guard on the trimmers, but the missing hair was still too visible."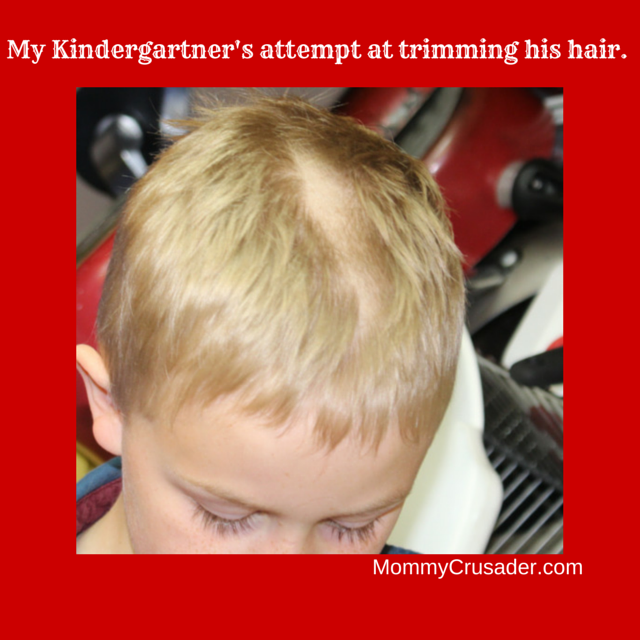 I thought, so does he have any hair left? But, I held my tongue, letting my husband get through this obviously traumatic experience.
Almost sheepishly, my husband, looking at the ground, said, "I had to use a size one guard on the trimmers."
Then, he very gentlemanly took my hand and ushered me into the house, where I found my darling Kindergartner happily playing Wii with his siblings – but, missing all but a skiff of his hair.  I fuzzed his head a few times and asked where his hair had gone. He told me that he had told Dad that Dad didn't have to shave off all his hair because the missing hair would grow back in two weeks. Hopeful thinking, son, hopeful thinking.
After enduring a day of being called "Q-ball" and "Baldy" and other such jokes and a myriad of fuzzes of his new hair cut (mostly from me), my Kindergartner asked us all to "Please leave my head alone. The hair will grow back."
My preschooler summed it up rather well that night. She looked straight at his head and said "You still have your hair. The hairs are just tiny."