It's Saturday –which means a little more time to spend with the family. So, I'm challenging all my fabulous readers and their families to a Lego build off. This will be a weekly feature of my blog. I hope you will find it a fun and creative activity to do with your families. Let the challenge begin! We've finally made it to November and the next big holiday is Christmas  Thanksgiving. To get us all in the mode of thankfulness, this week's challenge is a Cornucopia.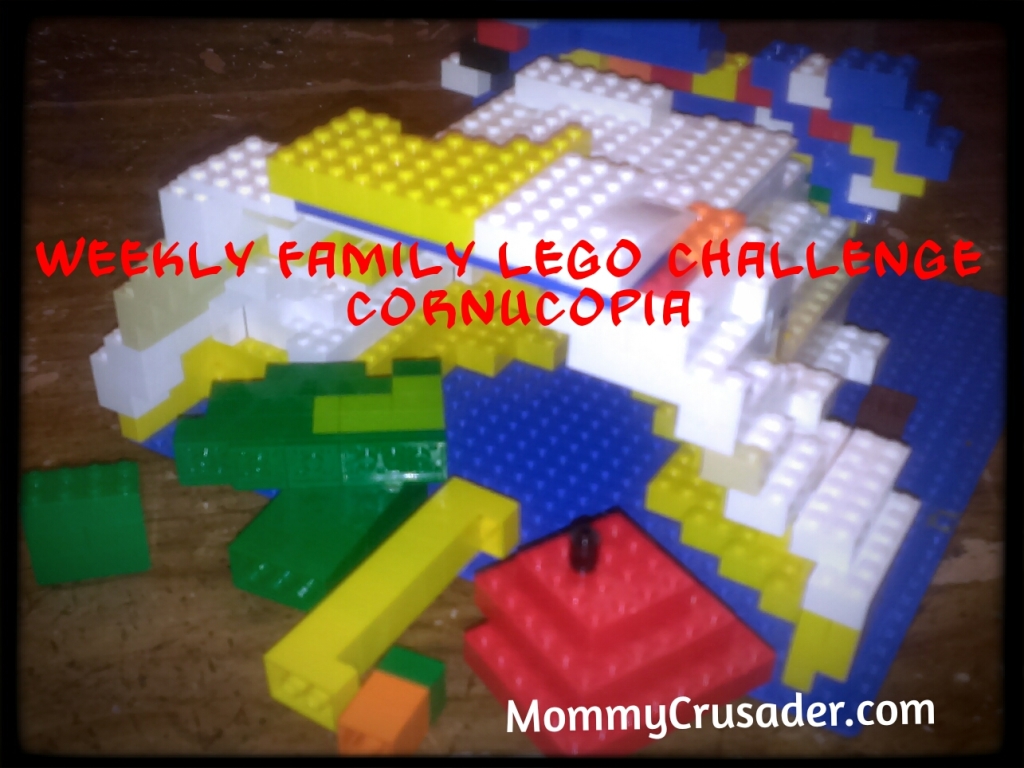 Rules:
Every Saturday, I will present the build challenge. Then participants will have until the next Saturday to create, from Legos, what the build challenge was. My family will also be participating. Take a photo of the creation and write a 100 word caption explaining the story behind the creation. If you want to include who helped and built what, feel free to do so, but please don't include actual names. Photos of participating Lego creations, and captions, will need to be e-mailed to mommycrusader@mommycrusader.com by 4 p.m. Friday. I will then feature the photos and highlight my favorites Saturday morning and issue a new challenge. If anyone has questions, please contact me or share in the comments below.
The Challenge:
To help us remember that Thanksgiving is an important holiday, this weeks challenge is to create a Cornucopia. Anything goes in this cornucopia — fruits and veggies, flowers or blessings, abstract or realistic. Please, only use the Legos already in your household. (No special purchases.)
This is our family's entry:
The Builders:
Our Kindergartener worked on building the exterior upper-edge of the cornucopia and the carrot. He was the one most interested in completing our build this week. Our fourth grader made the apple and helped Daddy build the horn shape. Our preschooler helped build the cucumber. And our second grader helped make the other cucumbers and banana. Mommy was working on restoring order to what Halloween had done to the house — so she didn't help with the build this week.
Happy building! I'm already excited to see what everyone will come up with. Good luck and have fun!