Every two years, we throw our children friend birthday parties. My Kindergartner turned six this year – in February.  So, we "owed" him a party. It's been a few, crazy months; but still, a promise is a promise. I don't have time to do super fancy parties. I need my parties to take minimal preparation, have super fun activities, and leave minimal mess. We started planning. And, we ended up having "the best birthday party ever, Mom!" according to my Kindergartner.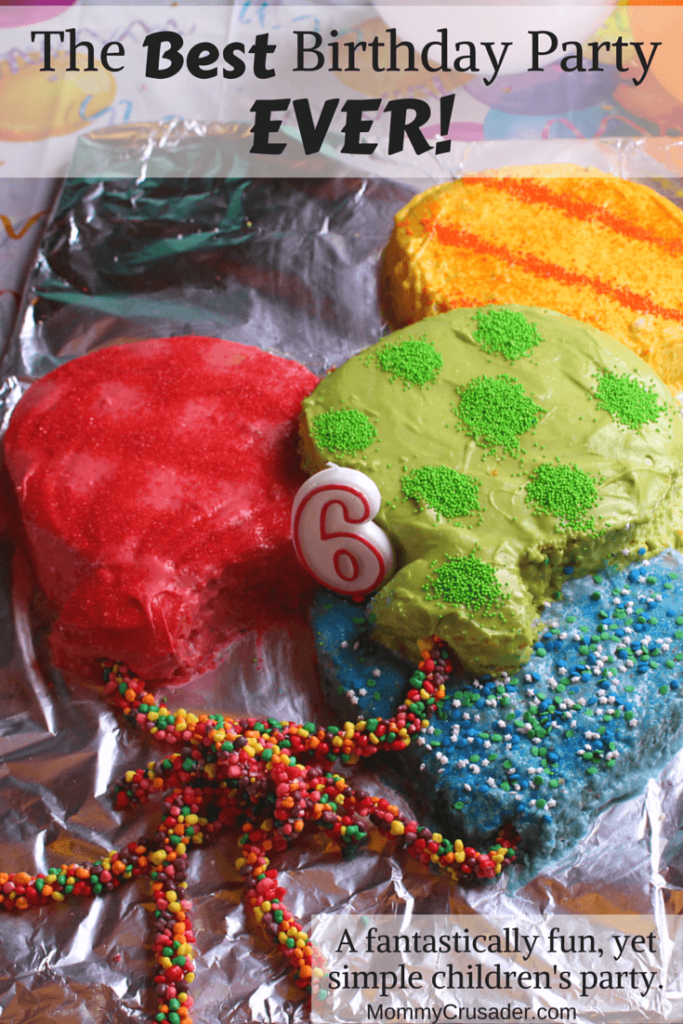 This party was actually very easy to put together, and our guests had so much fun that their mothers had to pry them away. I'm into simple to create, but fun, experiences and so was very pleased with the results.
The theme my Kindergartner decided on was "balloons" and I was so happy. That theme is VERY easy to build activities around and every kid loves balloons. We developed four different activities, in addition to presents, and cake and ice cream. The party lasted it's scheduled 90 minutes and everyone left happy. Also, the children got to win the treats that filled the goodie bags, which helped make the party faster to put together.
Activity One: Bop It Up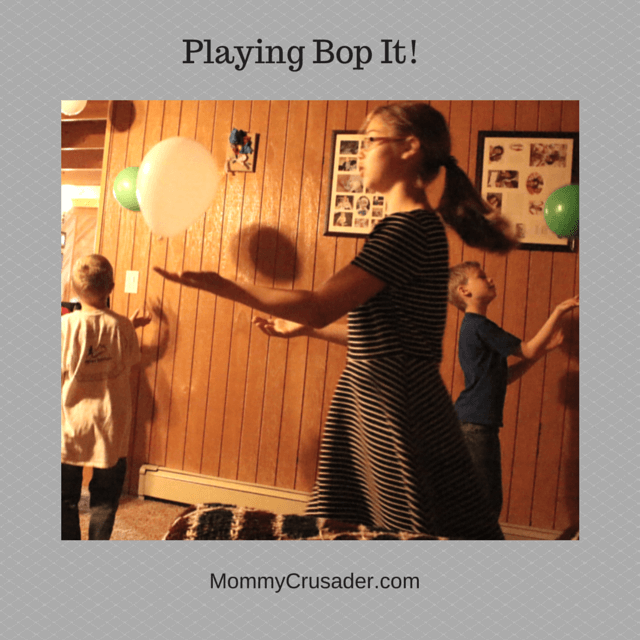 Materials:
Inflated (with regular air) balloons
Small prizes – We used two pieces of small candy.
Timer
The goal of this activity is to keep a balloon in the air for as long as possible. There can be other rules depending on the space in which the activity is taking place. We were holding the party inside because of the weather.  Our rules were that the balloon couldn't touch the ceiling or floor, or anything touching the floor (except for people and walls); and the balloon couldn't be held. We also set a time limit of 1 minute. Every child who kept their balloons up got to win a prize. We played this game as our gathering activity.
Activity Two: Balloon Obstacle Course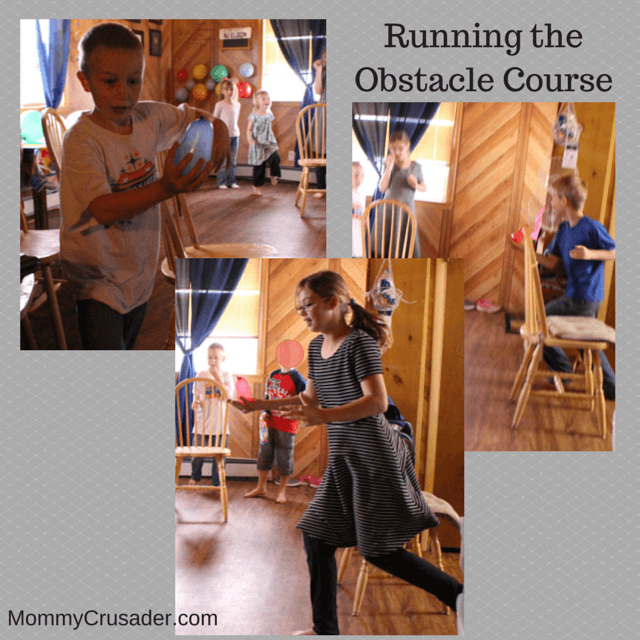 Materials:
Two weighted balloons
Chairs or other obstacles for children to run around
Prizes (We used small prizes like punch balloons, mini Play-doh pots, puzzle erasers, etc.)
What child doesn't like to run inside? I routinely send my children outside for doing this. I thought we'd capitalize on this delight of childhood and create an indoor obstacle course. We set our kitchen chairs up as a slalom course, with an indoor tent as the final obstacle before the runners went through the slalom course again.
We divided the party guests into two teams and had them walk the course with us once before it was time to race. The team members had to run through the course balancing a weighted balloon on their open palm. The first team to have all their team members run the course wins a prize. The other team gets two pieces of candy. We all had a lot of fun with this activity. We ran the course, choosing different teams, about four times – and the guests still were not tired of it. I told them we'd go back to this activity if there was time.
Activity Three: Modified Balloon Dart Game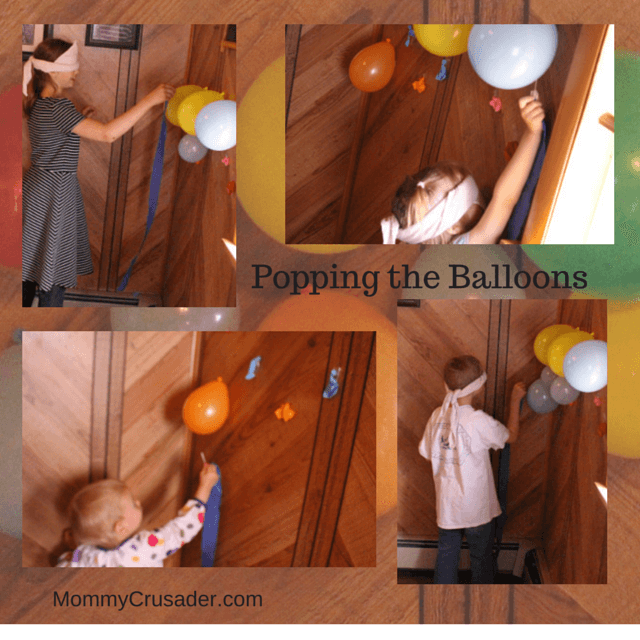 Materials:
12 or more inflated (with regular air) balloons.
Corsage pins
Blind fold
Prizes (We used small prizes like punch balloons, mini Play-doh pots, puzzle erasers, etc.)
Set Up:
Tape the balloons onto a wall in a grid pattern.
Tape about 12 inches of crepe paper to the end of the corsage pins.  (To help the pins not get lost.)
I wasn't too sure how I felt about a bunch of 6 year-olds throwing darts in my house, so I had to come up with a way that they could pop the balloons without causing major damage. The game is a bit like pin the tail on the donkey. The goal of this game is to pop the balloons. Instead of throwing the corsage pins at the balloons, the players are blindfolded, spun around and then let loose to pop a balloon. If the player pops the balloon, they get to pick a prize.
Activity Four: Balloon Ball Pit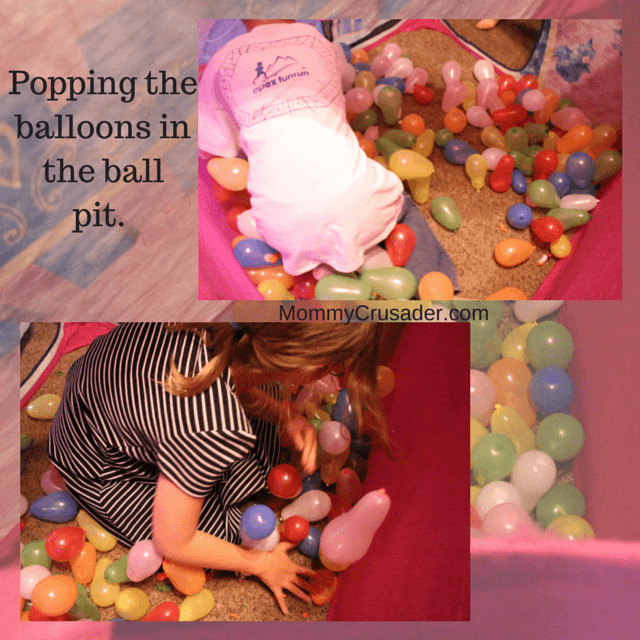 Materials:
300 water balloons
Prizes (We used larger prizes for this – hotwheels cars, model cars, bubbles, etc.)
Small candies
Pennies
Slips of paper which say "Pick a prize"
Play or pop-up tent
Timer
Set Up:
Stretch the water balloons over three fingers, working the fingers all the way to the bottom of the balloon. Place a candy, two pennies, or a slip of paper into the balloon. Carefully work the fingers up and out of the balloon. Blow the balloon up, and tie.
Repeat until all the balloons are blown up. Not all the balloons need to have something in them. We actually blew up 100 balloons without anything in them. This process takes a long time. We spent several hours blowing up balloons.
Place the balloons inside a play tent or other containment device that children can get into.
Have the children sit down near the tent. Tell them they will have 10 seconds to pop as many of the balloons as they can. Once the 10 seconds are up, they will need to stop, collect the prizes they have found, and then carefully leave the tent. Continue until all the children have had a turn and all the balloons are popped.
Needless to say, this was the hit of the party. My second grader, whose birthday is next month, asked for a repeat of the balloon ball pit and the modified balloon dart game at his party. So does my fourth grader. I guess we're going to be buying lots of balloons for the next few months.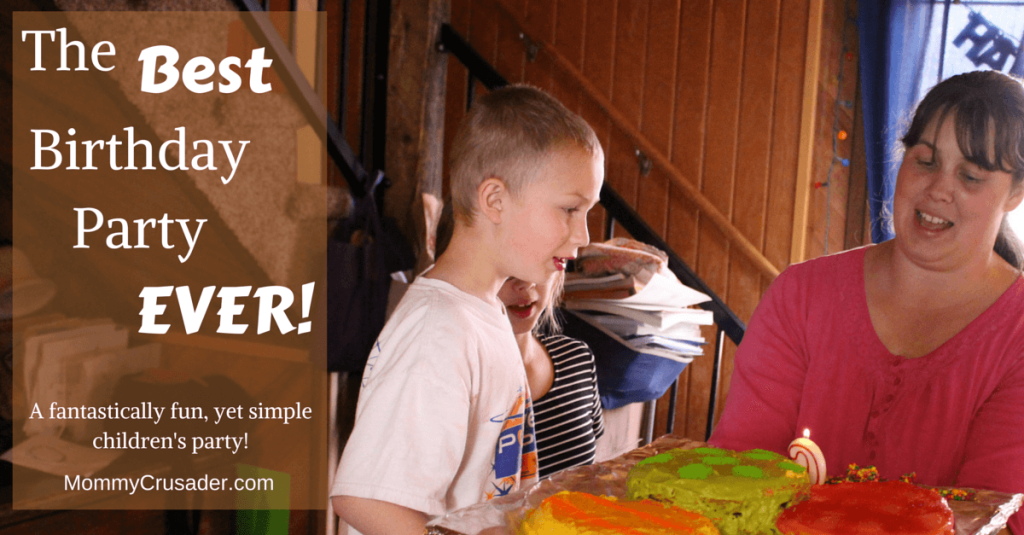 These were the activities, which received rave reviews and requests for future birthdays, and were called the best birthday party ever by all four of my children. They are simple to set up and fun to play. It was a great way to have a birthday party. And I'm pretty sure my Kindergartner has forgiven how late I was in getting the party together.