So, my baby is 15 months old this month. And we are still nursing sporadically throughout the day. Most of the time, the nursing is relegated to nap times and bed times. But I'm a believer in on-demand nursing. Basically, if the baby wants to nurse, I let her nurse. I enjoy nursing. I love the bonding and attachment nursing creates. I love knowing that, no matter what else the baby has eaten – crayons, play dough, or cereal – she has gotten good nutrition that day because she has nursed. So, I find it hard to know when to stop nursing.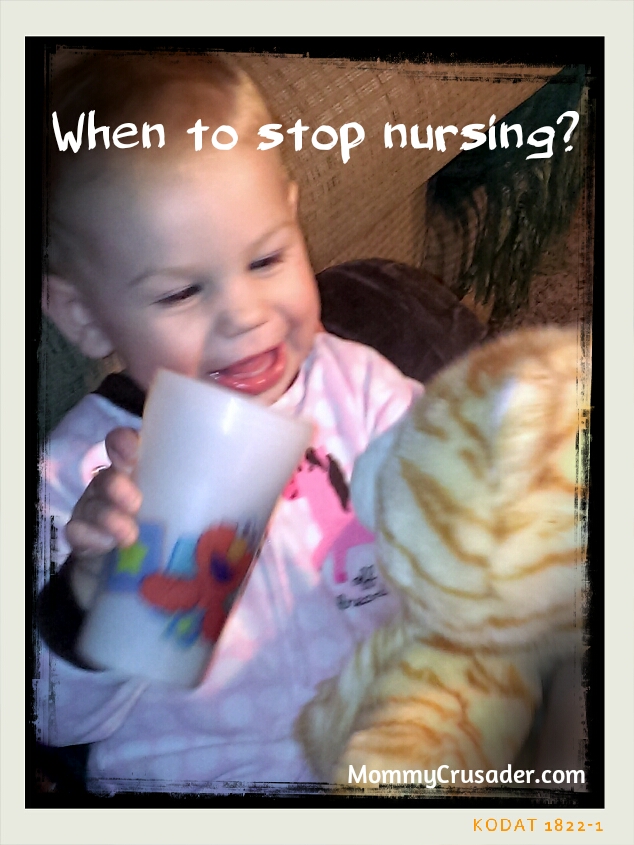 Lately, though, my baby has been giving me some rather large signs that it's probably time to start the weaning process in earnest.  She'll come and nurse for 10 seconds, then be on her way again. I'm not a fan of the silly sipper style of nursing. So, there's sign number one that I need to be giving her other liquid options during the day.
Sign number two is that, if she has settled down to nurse, she wants to nurse and nurse and nurse. And I just can't handle the drain to my own personal reserves when the marathon nursing happens. I think this means it's time to teach her to self-soothe more effectively. And though I'm not a fan of letting the baby "cry it out", sometimes a little alone time is beneficial when learning to self-soothe. There are gentle ways of doing this. Like rubbing the baby's back when she's trying to get back to sleep, or holding her hand at night – instead of her holding Mommy. And sometimes, it's good to give the baby a nice big teddy bear to snuggle with. My baby is currently enamored with a stuffed cat we have. (It's very soft.)
Finally, sign number three is that my baby is inventing new ways to nurse from Mommy. Instead of lying down nicely to nurse, tummy to tummy, she has started trying to nurse with her head held vertically. Also, she has started trying to lie parallel to my body and still nurse. This new position causes great discomfort, for sure.
However, her final exploration of new positions to nurse from is by far the most painful. She has started to lay with her head horizontal to my body (which is nice, right?), but then she will twist so she's on her hands and knees and start to do the yoga position downward facing dog. This means that her cute little bottom is up near my nose, while her mouth – with several teeth – is still busily nursing. (I did try to get a picture, but was worried about exposing something.)
Any way I look at it, these new behaviors are convincing me that it is time to start weaning the baby. And while I don't believe in behavioral changes during the holiday season, I think I already have my number one New Year's Resolution – wean the baby!
How about you other nursing mothers? Are there ways you know it's time to wean the baby? I know every mother has her own feeling about when to wean and how to go about it. I'd love to hear about it in the comments below, and only ask that comments are respectful and supportive.