Thanks for visiting my linky party!  I will spend the week visiting each and every one of your posts, and leaving comments, sharing, liking, and pinning.  I will feature my favorite posts next Saturday during the next Saturday Evening Family-Friendly Free-For-All. I will send out an e-mail to every person who submits a link reminding them about the party when it goes live Saturday Evening.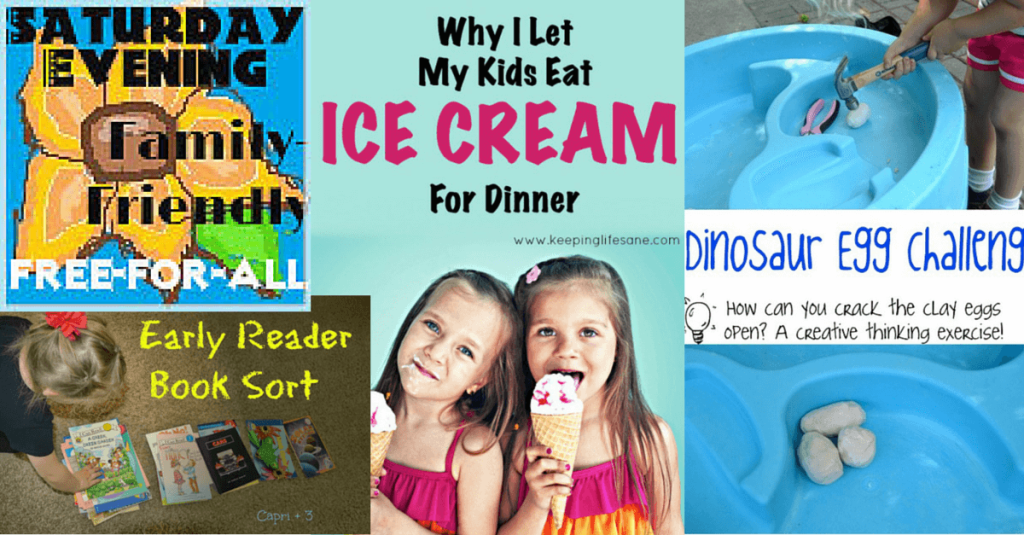 Keeping Life Sane did a wonderful activity with her kids.  She had a 'Yes' day!  Hop on over to her wonderful blog and read what a 'Yes' day is and how great it is.  Why I Let My Kids Eat Ice Cream for Dinner.
P is for Preschooler created a wonderful science exploration challenge.  She was able to allow her daughter to brainstorm, plan, and experiment until she found something that worked.  I loved this exploration!  Stop and by and read about the Dinosaur Egg Challenge!
Capri +3 found a great way to teach organizing and sorting skills, as well as early math while keeping their child interested in books.  What a great activity!  Stop by and read Early Reader Book Sorting Fun!

1) Please post your own two Favorite Family-Friendly Posts from this week.
2) Please visit several other posts in the link-up, if you can, and show them some love by commenting and sharing, etc.
3) Please sign up for my newsletter.
4) Please tweet and facebook share about this link-up party so that others can join.
5) Please grab the button and place it with your other linky party buttons.


Loading InLinkz ...