Ever find that special food that reminds you of feeling loved? These puffed rice pumpkins are that food for me during Halloween time. When I was a little girl, my Grandmother's house was my favorite house to go Trick-or-Treating at. She always seemed so pleased to see me all dressed up in my costume. My Grandmother didn't live in my neighborhood, so our family would have to drive there. I loved going to her house for Halloween so much that one year –when I was way too old to be Trick-or-Treating –my friend and I drove to her house. (I said I was too old to be Trick-or-Treating, and my friend was a good sport about it.)
The treats weren't the reason for visiting that night, although she always had fantastic homemade goodies to share. I went there because of how she made me feel. When I was at my Grandmother's house, I felt incredibly loved, special, and treasured. However, my Grandmother did have a special treat she made just for Halloween – Puffed Rice Balls. Now that my Grandmother has passed, these Puffed Rice Pumpkins are part of how I revisit her house and remember all the love she shared with me.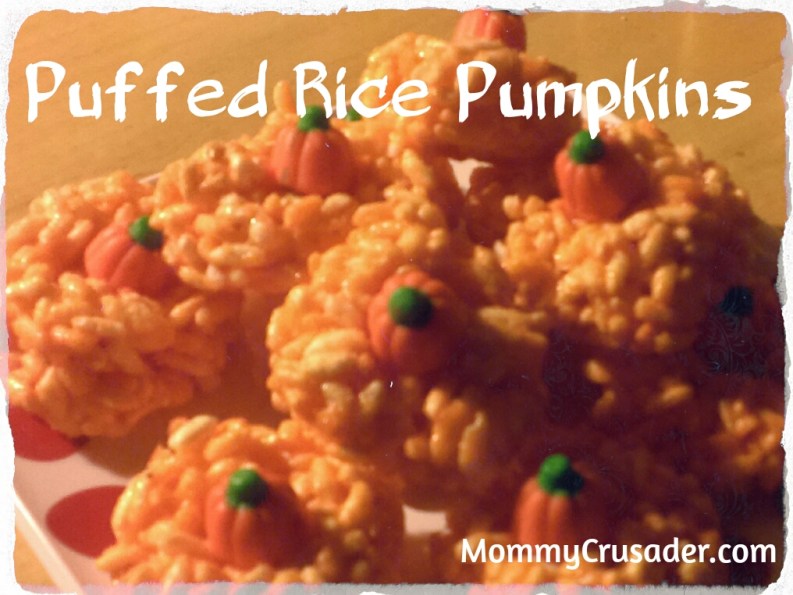 The treats are really easy to make, fun to shape, and yummy to eat. They are easy enough to mix with children, but I recommend only adults shaping them. I shaped these treats to be about the size of my preschooler's fist. My Grandmother shaped them to the size of an adult's fist – probably three times the size I made here. She would wrap them in wax paper and use masking tape to close the wrapper.  Wrapping them keeps them soft and chewy, so if they aren't going to be eaten right away, it's a good step to remember.
The recipe is simple and can be modified to create whatever flavor profile is wanted. And the recipe is forgivable – it's hard to not have these turn out. It's a fun recipe to try new combinations with and create new tastes. But, I personally love it just the way it is – just like Grandma made it.
Puffed Rice Pumpkins
These fun treats are easy to make but yummy to eat. If they aren't going to be eaten right away, remember to wrap them in waxed paper so they stay soft.
Yields: 12 medium sized balls
1 package orange gelatin
1/2 stick of butter
1 package mini marshmallows
6 cups Puffed Rice cereal
*1 package candy pumpkins *optional
Measure the cereal into a large bowl.
Pour the gelatin in the bowl with the cereal and mix.
Melt the butter and marshmallows in a large sauce pan.
Add the dry ingredients to the melted marshmallows.
Mix vigorously until well combined.
Rub butter on hands, and working quickly, roll the cereal and marshmallow mixture into balls. Work from the outside edges toward the middle. This step must be completed while the mixture is still warm. Squash the balls slightly to create a more pumpkin look.
Place one candy pumpkin on top of each pumpkin.
If not eating soon, wrap each completed pumpkin in wax paper and secure with masking tape.
Preparation time:

15 minutes

Cook time:

30 minutes

Total time:

45 minutes
Nutrition
Calories:

167

Fat:

4 grams

Carbs:

32 grams

Protein:

3 grams