*This post contains affiliate links for your convenience.
It's that time of year again, autumn. I love how the chill in the air makes a homemade stew all the more delicious. And what goes better with a stew than some warm biscuits. My family enjoys a good stew, but my kids won't eat the leftovers. I have a hard time knowing how much to make for just one supper, so I'm always left with a supper's worth of stew that just sits in my fridge until – well I try not to let science fair projects grow in my fridge.  But I just hate wasting the yummy stew to begin with.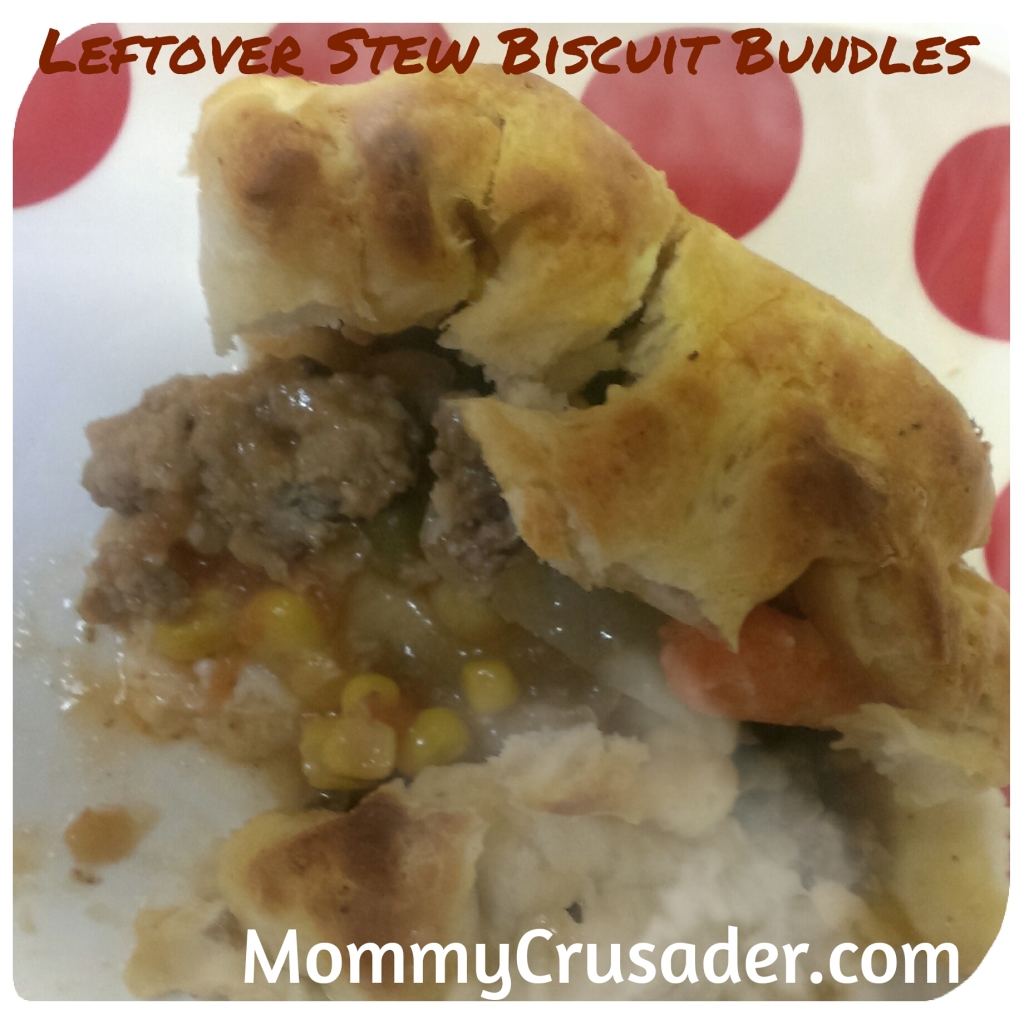 Anyway, the other day I'd made a batch of yummy beef and sausage stew, but had a supper's worth left over. About two days later, we needed a quick dinner, and we needed it "now". I had the stew left over, but knew that would be an epic fail, with kids pushing the stew around in their bowls. Then I spied my Pillsbury Grands Buttermilk Biscuits in the fridge. As Gru (from Despicable Me) might say, "Lightbulb!"
I had a fabulous way to disguise my leftover stew so my kids would enjoy it – dinner was saved! And diner would be ready soon–only about 30 minutes to a homemade (well almost) meal for the whole family.
So, here is how to remake those autumn stew leftovers for a second dinner.
Leftover Stew Biscuit Bundles
First, take an individual biscuit and smash it flat. It will need to be pulled out a bit. Keep flattening and pulling until the biscuit is about five inches in diameter.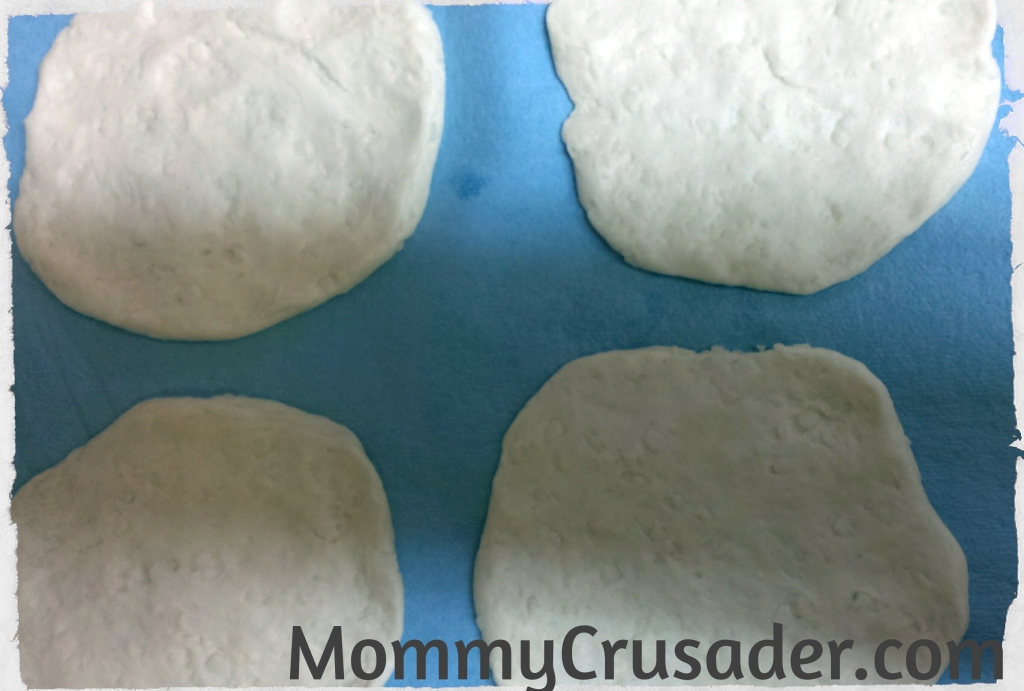 Next, take two or three spoonfuls of the stew, be sure to include the broth, and place them in the middle of the flattened biscuit.
Fold the biscuit around the stew and seal closed.
Place the bundle into a greased 9 x 13 pan with the seam up.
Then place the pan in the oven at 350 degrees F.  for 10 minutes. This is the trickiest part of the whole recipe revamp. The biscuits will need to be watched after about the 10 minute mark. I had to turn the oven down at this point, to about 250 degrees F., to let the middle of the biscuit bundle cook. It took probably another 15 minutes at the lower setting.  Be sure to test the middle biscuit, to make sure it's fully cooked, before removing the pan from the oven.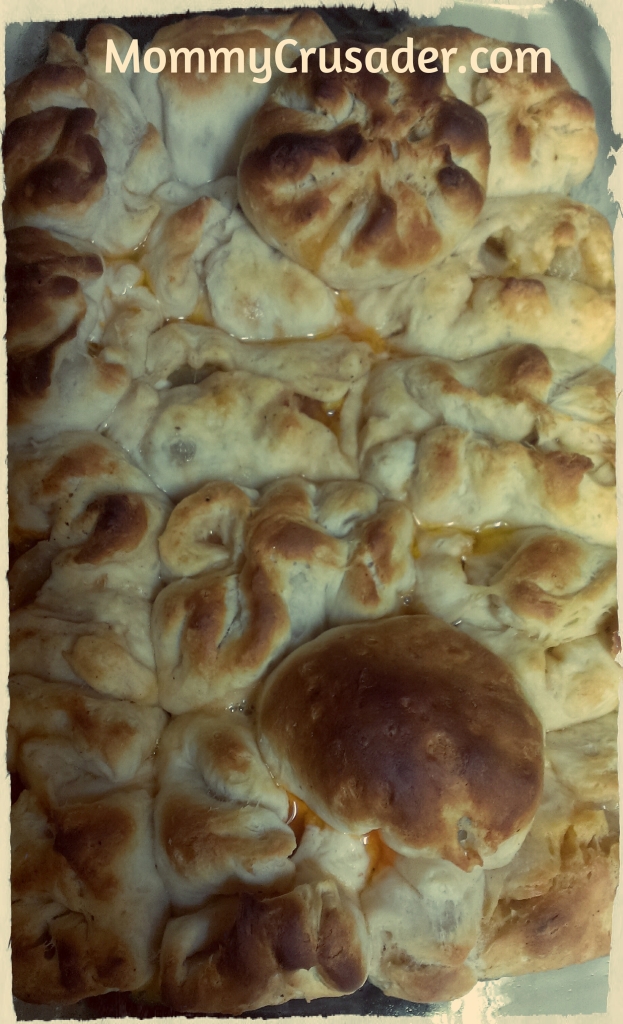 Please note: this recipe is meant to be a way to use leftovers. The meat and vegetables have already been cooked before being placed in the biscuits. The cooking time for this recipe will not fully cook any raw ingredients. Also, just a food safety note – don't use any leftovers that are older than seven days.
I thought about making gravy to top the biscuit bundles, and that would have been easy enough. But, the broth from the stew creates nice gravy inside the biscuits, so additional gravy really wasn't needed.
My kids loved this rendition, and didn't recognize they were eating the leftover stew – bonus points! We ended up eating two Biscuit Bundles each and were well satisfied.
Do you have special ways to dress-up or use leftovers in your family? I love to hear about them.