We live in a great area near the Dinosaur National Monument, and my children are fascinated by dinosaurs. They love watching Dinosaur Train from PBS Kids and when they found out we were going to spend the day hunting dinosaurs, they were ecstatic.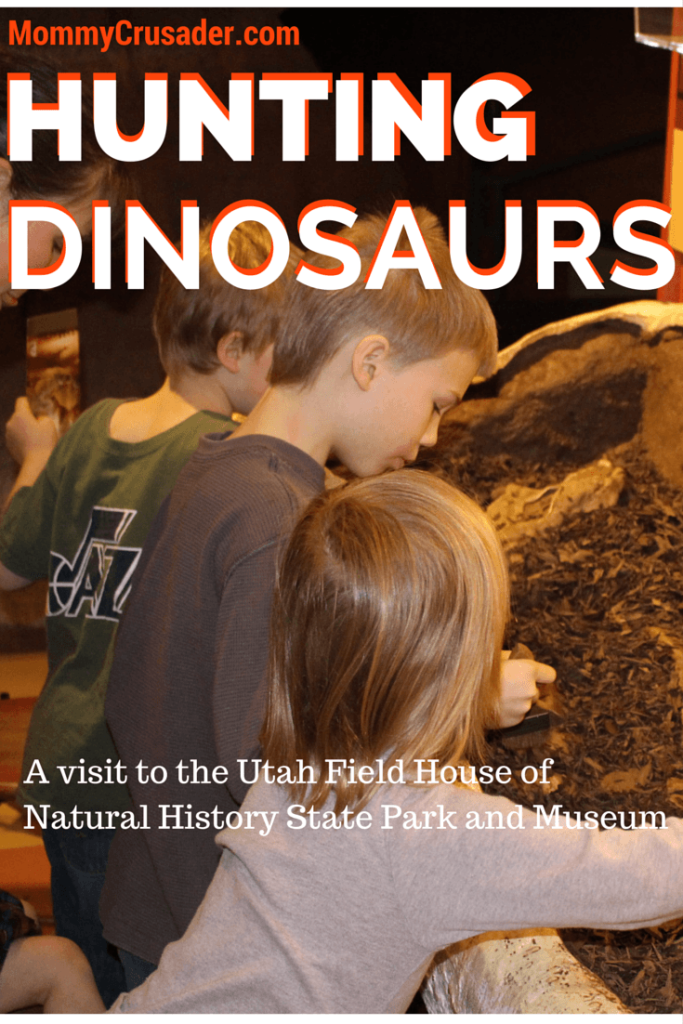 We spent the bulk of our day at the Utah Field House of Natural History State Park Museum – which just happens to be where Dr. Scott the paleontologist works. (My kids are huge fans of his.) He wasn't working – it was Saturday – but we got to see the labs where he and other paleontologist work as part of a self-guided tour of the museum.
The museum takes visitors through a dig site, and then the differing geological times. The setup is super kid friendly, and yet there's plenty for adults to see and learn about as well.  There are lots of places where kids and parents can touch actual artifacts and bones from the differing eras. There's an interactive 3D search and find exhibit, how to be a paleontologist exhibit, glow in the dark mineral collection, and a dinosaur garden – as well as other great exhibits.
When visiting the museum, plan to spend a while. There are so many great exhibits at the museum. I could write an article about each one. But, I'll just write about a few of the highlights here.
Become a Paleontologist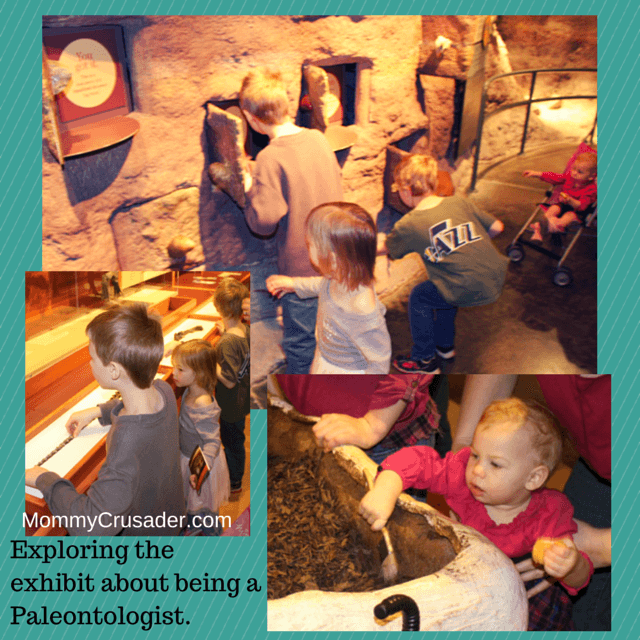 The main floor of the museum has a fabulous exhibit that lets visitors experience some of what a paleontologist does. Visitors can feel real dinosaur bones, identify fossils from other buried debris, build a dinosaur, and see how museum exhibits are built.
My children really loved the guessing wall. The point of the wall is to show how fossils look out in the field. The wall has various things, like animal bones, rocks, and dinosaur bones partially buried in panels that open and close. Visitors get to open the panels and see if they found a dinosaur bone or something else. The panels were all heights – even stroller height.
Part of this exhibit that I enjoyed was watching my children go through the entire process – from discovery to display – in an interactive environment. First, we got to uncover bones from the ground (a tray full of wood chips). Then we got build a skeleton of a small dinosaur – just like a puzzle. Then we got to classify fossils using a dichotomous key. After that we got to see how museums put exhibits together.
3 Dimensional Seek and Find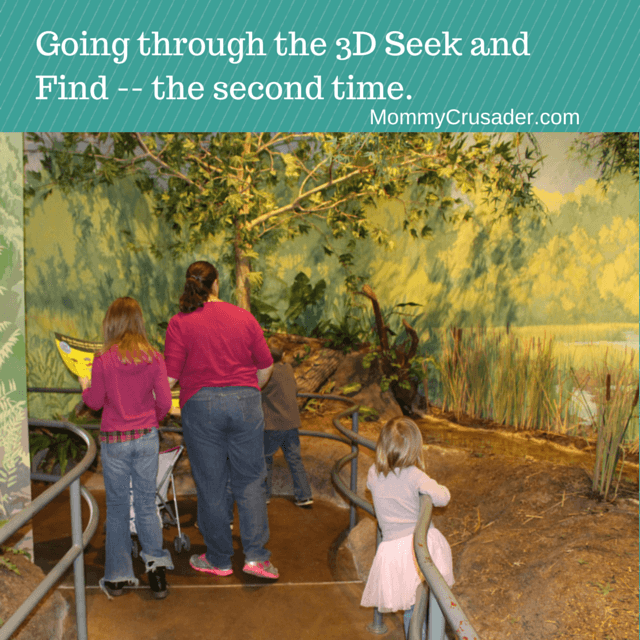 Another part of the museum displays the mammals that inherited the planet after the dinosaurs. After going through and seeing their skeletons, visitors get to go through a path set up as a seek and find. There are pictorial lists of animals and plants to find along the pathway. We went through twice – and still missed a few. The animals are hiding very well. It was a lot of fun to watch everyone get excited about finding the items on the list.
Mineral Exhibit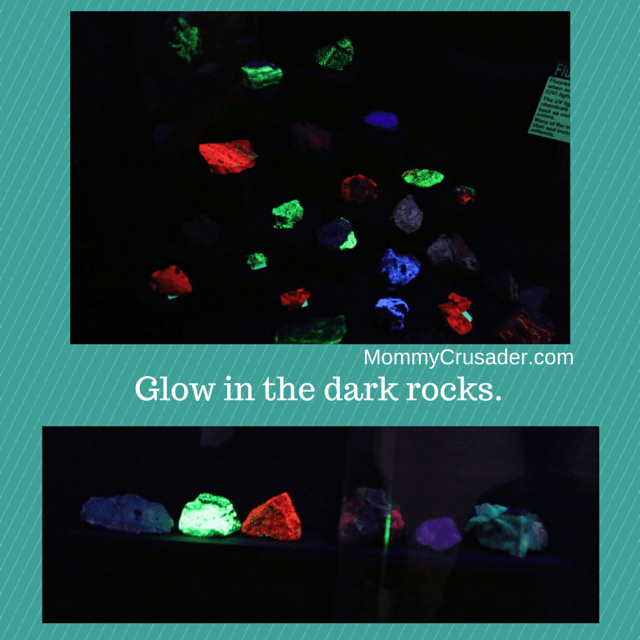 On the upper floor, there is a fantastic little room displaying fluorescent minerals. The room is pitch-dark after entering, but in the cases there are fantastically glowing minerals. We were amazed at the colors. The longer we stayed in the room, the better we could see the different colors.
Dinosaur Garden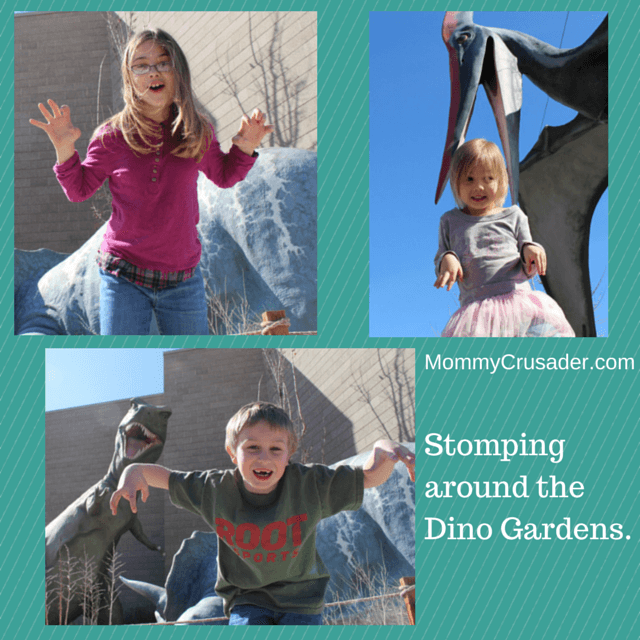 Finally, around the museum is a wonderful garden area filled with full-sized dinosaur statues. My kids loved seeing these statues. They acted like tyrannosaurs by the T-rex, pretended to be eaten by the Pteranodon, and basically enjoyed themselves hunting dinosaurs.
This was a great museum to visit for children and adults. We enjoyed the interactive exhibits and the flow of the exhibits. The cost was about $30 for our family. I would recommend a stroller for little legs, water bottles, and a camera. But for anyone who loves dinosaurs, this is a great place to visit.