It can be really hard to know what to get children for Christmas. They may have everything they need and more than enough toys for two families. When faced with that kind of situation, sometimes it's good to think outside of the gift box. Gifting experiences can be a fabulous way to share love with children, while creating amazing memories. What follows are some ideas for gifting experiences this year.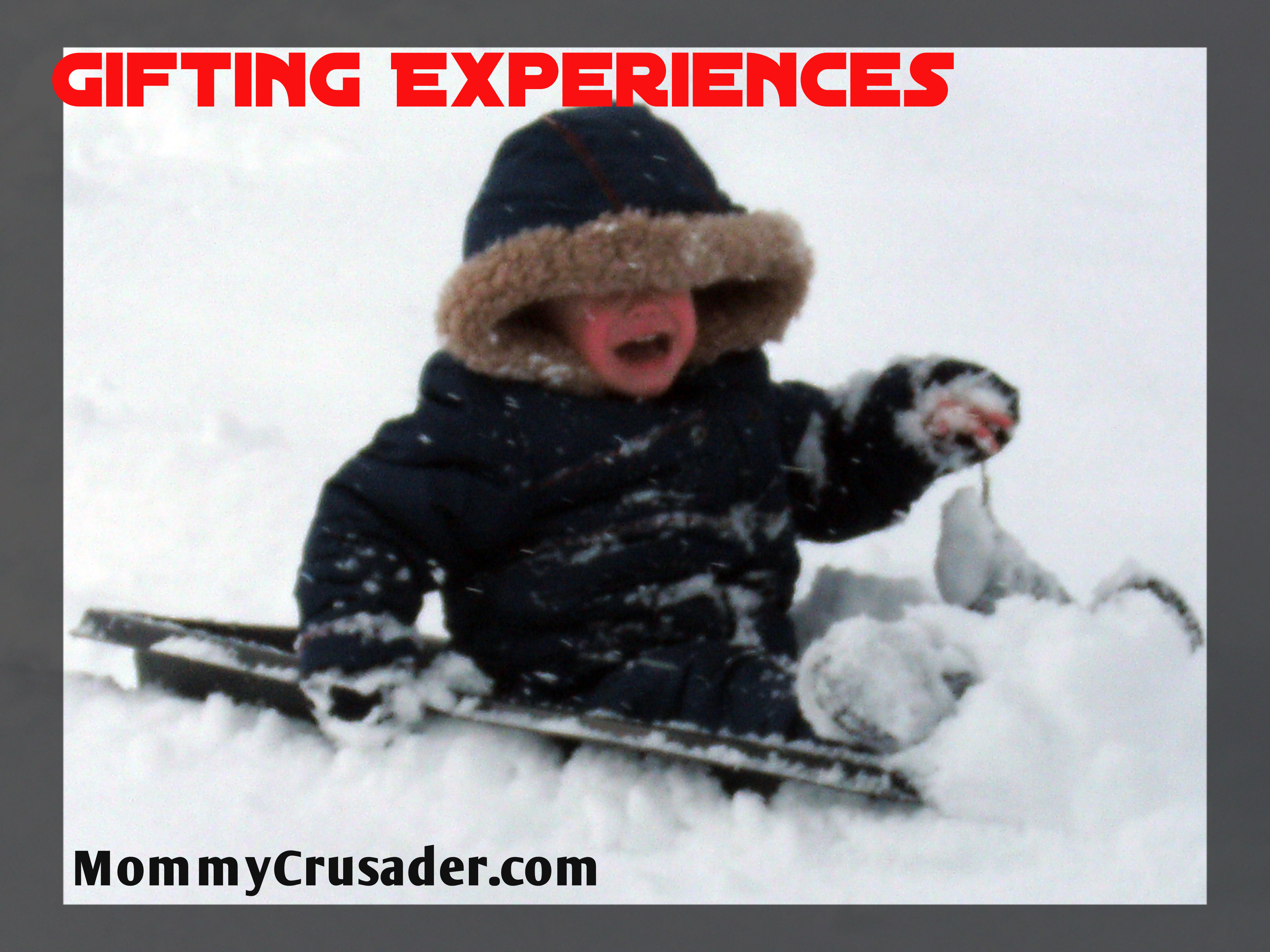 Let me clarify, first of all, that experiences do not need to be expensive trips to some "magical kingdom" far away in California or Florida. While one year when I was a child, we did end up going to Disney Land – and we did have an amazing time; some of my happiest memories are of going to the sand dunes near our home and flying balsa wood airplanes, making sand castles, and rolling down the sand dunes.
The important thing to keep in mind when gifting an experience is to remember it's the time spent with the child, doing what the child is interested in that makes the difference. The experience isn't about accomplishing something; it's about spending time together. When creating the experience, don't make a list of things to do, just let the children guide what happens. Try to be in their moment with them, not directing the moment for them.
Here are some ideas that could be given as experiences this year, instead of packages under the tree.
Go sledding together
One year, we were visiting my husband's family over Christmas when there was a huge snow storm. The next morning, we got up, got out the sledding tubes, and went sledding. I pulled the tube around and around in the snow so much that I made a slick snow track. My kids' noses and cheeks were bright red, but they didn't care. They outlasted my stamina, so my husband hooked the tube to the four wheeler, and took them around again. They still talk about that moment. It was a great experience and memory to share together.
Visit with grandparents
I remember going to my grandparent's home for our family's Christmas Eve Devotional. We sang carols, recited poetry, played musical instruments, and read the Christmas story from the book of St. Luke. My father and I had worked for a long time to memorize "'Twas the Night before Christmas". I was only 4, but I still remember how proud I was when I recited that poem to the whole family. I especially remember the hug my grandparents gave me.
Go to a children's museum
What a better place to really see how a child understands the world, then by visiting and exploring a children's museum together. Letting them experience the wonder and amazement that science can create from a hands on perspective is wonderfully bonding. Again, I have happy memories of a planetarium visit with my family. I remember sitting in the darkened theater between my mother and my father (I don't know how I got so lucky to be between them both!) watching the display of the universe overhead. It was a very awe inspiring moment.
Go ice skating
We've only done this once with our family. We went when we only had one child, and she was just a bit more than a year old. We went to a former Olympic ice skating rink and took turns holding the baby, while the other skated around the rink. After my husband and I got more confident, we took turns wearing the baby and skating. So, really, no happy memories for the baby on this one, but my husband and I had such a good time that we want to go again – once the children are all a mite bigger.
Play board games or build Legos all day together
I've already written about how much fun it can be to have a family game night – imagine if you played all the games you owned in one day! Okay, in our case, it might take more like a week straight – but either way it would be a fantastic time to get to know each other. The same could be say of building Legos or blocks together.
Go to the mall and let the kids pick out their gift
My husband has a beloved grandmother who took him shopping for his birthday present. Instead of picking out the gift and wrapping it ahead of time, she picked him up and took him to the mall. He was told how much grandma could spend for his birthday, and then they just went shopping together. This happened more than two decades ago, but he still talks about the experience. He doesn't talk about what was bought, but he talks about spending the time with his grandmother.
When gifting an experience, it's a good idea to dress the gift up a little. Printing out "tickets" for the event and wrapping them up is a nice way to present the idea.   Children love unwrapping things. Or, make a puzzle out of a letter detailing what's going to happen, then give one piece of the puzzle to each child. Let them put the puzzle together and discover what's happening next.
Any way about it, gifting an experience is a unique way to create lifelong memories and stronger family relationships.
What are your favorite Christmas memories? I'd love to hear about them in the comments below.